Andrea D. Carter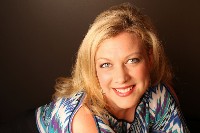 Biography
Andrea D. Carter began her career in health care after completing her degree in Psychology at Bishop's University in Lennoxville, Quebec.
Andrea's personal life experiences have led to her ability to connect with clients and students at a level that enables them to grow at exponential rates. Andrea is gifted at empowering others to take their health into their own hands and grow from the inside out.
"Words truly have no meaning unless there is an experience to understand the wisdom gained. I feel that the most successful people are those who have lived through many experiences and understand how to connect with people through the wisdom of the experience and empathy. If more people could connect from the heart, judgement and competition would no longer be an issue."
Andrea Carter
Andrea teaches MindScape and MindScape for Business across Canada to individuals, corporations, athletes, musicians, cancer patients, women with reproductive issues and those interested in investing in their mind.
Andrea has avidly expanded the BodyTalk System into the corporate and academic world using MindScape. Along with Amanda Rollefstad, her teaching partner, both have brought BodyTalk Access to Mount Royal University.
Andrea also gives guest lectures at the University of Calgary with their Integrative and Complimentary Medicine Seminars.
She has taught a number of nurses within Calgary the Access, BodyTalk Fundamentals, (formerly called Modules 1 & 2), and MindScape courses.


Andrea has been teaching BodyTalk Access at Mount Royal University with great reception and success. To register for any BodyTalk Access courses at the University please click here:
http://conted.mtroyal.ca/bodytalk
Because of Andrea's background in sports, she has also worked with a number of high caliber athletes, from the CFL to Canadian medalling Olypians.
With all of Andrea's courses she keeps her students engaged with with her after course members area on her website. She has a number of audio & video files alongside valuable resources that help students move forward.
For more information about courses Andrea D. Carter teaches, please contact her directly at (403)542-6743, check out her website, www.andreacarterinc.com or reach her via email at andreacarter@me.com