Kristi Serafin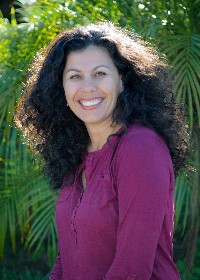 Biography
For years I suffered with neck and back pain that would lead to headaches that would last for days. I would go to the chiropractor weekly, sometimes I would go 2-3 times a week. At other times it was once or twice a month, but I would always need to return sooner or later. This went on for 20 years and I just figured that was me and my body. My spine was unstable and would come out of alignment and that's just how it is. It was life- my life!
Before the birth of my fourth child a good friend sent me a book called Energy Medicine- Balancing Your Body's Energies for Optimal Health, Joy and Vitality by Donna Eden
and I devoured it! It all made sense to me, it was what I had been looking for yet I didn't know it
existed. It was fantastic! But, there was so many things I could do but which one? Did I need to test every single possibility and then every possibility within that possibility? How would I navigate this energy medicine?
Then, that same wonderful friend did a BodyTalk Systems session on me. I had just given birth to my fourth child and spread pretty thin at the time. After an hour (that felt like 5 minutes) of her working on me I was intrigued, fascinated and experiencing a peace I had not known in a long time and it stayed with me for some time afterwards. Five months later I received another BodyTalk session and I was hooked! BodyTalk was what I had been looking for, everything became so clear in my life. BodyTalk bought all the different healing possibilities (Eastern Medicine, Western Medicine, Quantum Physics, and Other Modalities) together in one package-The BodyTalk Protocol! I could do this, I wanted to do this! I signed up for my first BodyTalk class in 2010 and waited for the big week to come. It was a truly amazing course, the first of many. Some months later in early 2011 I tested and became a Certified BodyTalk Practitioner. This is a practitioner and healing of the future- without diagnosing, without prescribing, without horrible side effects, without evasive techniques and yet profound healing is taking place! Healing of the mind, spirit and body. I took the background I had in Anatomy and Physiology and applied it to my BodyTalk Healing along with Reiki, Massage, Accunect, Classical Flying Stars Feng Shui, MindScape (intuitive work), Access Bars- Access Consciouness, Crystal healing, Akashic Records and much more and opened Kristi Serafin BodyTalk Healing. I now have over a 1000 of training in Energy Healing along with the practical side of working with clients. I don't think I will ever stop studying and learning new techniques and healing methods That is my commitment to the people I work with. I learn so they don't have to and then I share my knowledge in the form of your healing with you.
My personal growth in the last few years has changed my life completely. I no longer suffer from severe neck and back pain, and headaches are rare. I did go back to the chiropractor after 13 months of not going and after she adjusted my neck she told me-that is not the same neck I adjusted for 5 years what has changed? Well, BodyTalk changed it along with my own willingness to heal. I want to share this with my clients I work with, so they can become more present, healthy and experience all the possibilities that they are meant to enjoy in life! You can be dis-ease free! Let me help you achieve that healing.
I am a mother of four and have a natural sense of ease and comfort around babies, children, adults and animals alike. My hobbies include spending time with my family, hiking, rock climbing, crafting, reading and creating amazing opportunities and skills as a Girl Scout leader and mentor.
Please don't let doubt stand in the way of your health. It would be my pleasure to show you the incredible potential of BodyTalk and WholeHealthcare.
Please call:
Kristi Serafin BodyTalk Healing!

760-224-9330
Module 1&2- BodyTalk: Fundamentals Part 1&2
Module 3- BodyTalk: Principles of Consciousness
Module 4/7- BodyTalk: Bio-Dynamics
Module 5- Lymphatic Drainage & Applied A&P
Module 6- BodyTalk: Macrocosmic
Module 9- BodyTalk: Matrix Dynamics
MindScape- BodyTalk Life Sciences
Classical Flying Stars Feng Shui
Access Bars/Consciousness