Katharina Hirsch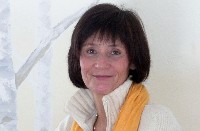 Katharina Hirsch
CBI, Par. BP, SrCBI, CBI, BAT,
Clinic
Box 226

Dayton, MT 59914
USA
Phone: 406 849 5301
bodytalk@khirsch.com

Biography
» german
Katharina Hirsch, CBP, CBI was born in Berlin Germany and moved to the US (California) in 1976. Her background includes a degree in psychology, therapist training with Arthur Janov at the Primal Institute in Los Angeles, and 20 years' experience in the art world as a motion picture make-up artist. Integrating her expertise, Katharina has lectured and lead workshops in communication and self-exploration through art around the US.
After relocating to the Pacific Northwest in 1989. Katharina obtained her Instructor Certififcation from the Oregon College for Oriental Medicine (OCOM) in 1995 and opened the 'Qi Gong Studio of the Healing Arts' on Vashon Island. Her teaching certifications include Soaring Crane, Jade Body and Turtle Longevity Qi Gong.
Katharina discovered the BodyTalk System in 1998. She was deeply impressed with Dr.John Veltheim and intuitively understood the significance of the BodyTalk System at once. She was instrumental in bringing BodyTalk to the West Coast, and in 2001 Katharina became a Certified BodyTalk Instructor.
As a Certified BodyTalk Practitioner in Seattle and Vashon Island, Washington, her private practice has successfully addressed a wide variety of physical and mental disorders, including:
Musculo Skeletal Problems
Viruses and Infections
Depression
Insomnia
Learning and Behavioral Disorders
Chemical Sensitivities
Food and Enviromental Allergies
Bloodsugar Imbalances
Her BT practice includes animals.Her specialty is working with horses.

Katharina is the Senior Vice President as well as a senior instructor of the International BodyTalk System Association (IBA) She is a member of the International Qigong Society. She currently teaches BodyTalk Modules 1 & 2, 3, 4&7 and Qi Gong seminars throughout the US, Canada and Europe

For information on Katharina's lectures, seminars and for individual appointments, please contact her at: 602 617 6311 or 011 49 (0) 4351 476 027. Her email is: bodytalk@khirsch.com

Please visit her web site at: www.khirsch.com