IBA Store
Welcome to the IBA online store. This store is open to the public. IBA Members and Instructors will find additional items if they log in first before entering the store.
Featured Products

Beyond Concepts is a fascinating account of the process of "awakening" as experienced from a Western...
$18.00

Released in June 2008, this book describes the evolution of the 1-day Access program and its use and expansion throughout the world. John Veltheim...
$15.00

This DVD contains three video clips: an introduction to the BodyTalk System, an introduction to BodyTalk Access and a media report on BodyTalk. These...
$12.00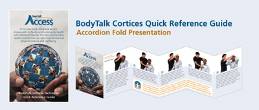 These 6-panel accordion-fold laminated cards (2 ½ x 4 ¼ inches when folded) show anyone how to do the BodyTalk Cortices technique on themselves or...
$15.00
Out Of Stock
Auto-Notify

Want to learn how to improve your health? Are you ready for a paradigm shift in the way you think about your purpose, your physical body and your...
$350.00

Released May 2013, written by John Veltheim. The book includes a scientific explanation by James L Oschman Ph.D. The chapters of this book will...
$15.00

This sequel to Beyond Concepts serves to dispel misconceptions about enlightenment. The concept of enlightenment that has long mystified and...
$18.00