IBA Store
Welcome to the IBA online store. This store is open to the public. IBA Members and Instructors will find additional items if they log in first before entering the store.
Featured Products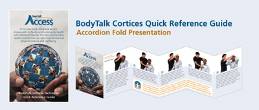 These 6-panel accordion-fold laminated cards (2 ½ x 4 ¼ inches when folded) show anyone how to do the BodyTalk Cortices technique on themselves or...
$15.00
Out Of Stock
Auto-Notify

These promotional and educational note pads are a great addition to any clinic as they contain double sided information that can be shared easily for...
$20.00
Out Of Stock
Auto-Notify

Released May 2013, written by John Veltheim. The book includes a scientific explanation by James L Oschman Ph.D. The chapters of this book will...
$15.00