Heidi Reid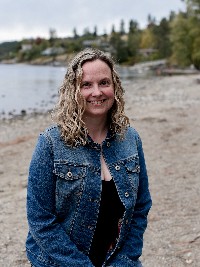 Biography
Heidi has been a Certified BodyTalk Practitioner since 2005 and an Advanced BodyTalk Practitioner since 2009. She has extensive experience facilitating BodyTalk on people of all ages with a wide range of health challenges. She is dedicated to furthering her own growth and wellbeing by continuing to take BodyTalk courses.
Heidi has a background in Teaching. She graduated from the University of Victoria with a Bachelor's of Education and has had 15 years of teaching experience as an elementary school teacher. Heidi has transitioned from a full time teaching career to operating a full time successful BodyTalk practice in the Okanagan Valley of British Columbia.
Heidi regularly works with children and families. She loves to work with clients of all ages who want to reach their full potential, whether in health, family, or in business. Heidi also enjoys working with business professionals and business owners to create successful and growing businesses.
Heidi's passion for teaching led her to become a BodyTalk Access Trainer and she welcomes people to contact her if they would like to take the one day BodyTalk Access class.
Heidi also teaches MindScape. It is an excellent course to develop one's intuition and creativity. MindScape provides a link with the subconscious which can open possibilities for self discovery and personal development. Using MindScape exercises taught in the course, participants will learn a powerful method for visualizing as well as manifesting their goals.
Heidi also teaches BodyTalk Fundamentals. The BodyTalk System can be learned easily by individuals with or without a background in health care. These techniques can be easily integrated into an existing health care practice, represent the beginning of a new career, or, simply be used to improve and maintain your own health and that of your family and friends.
Heidi provides distance sessions using Advanced MindScape techniques for clients who are unable to travel to her clinic.

Please call 778 212 1777 or email heidi@thewisdomtoheal.com to book your appointment today.

Heidi has taken the following BodyTalk courses:
PaRama BodyTalk 1 and 2, BodyTalk Fundamentals (Mod 1&2), Principles of Consciousness (Mod 3), BodyTalk Bio-Dynamics (Mod 4/7), BodyTalk Lymphatic Drainage and Applied Anatomy and Physiology (Mod 5), BodyTalk Macrocosmic BodyMind (Mod 6), BodyTalk Matrix Dynamics (Mod 9), BodyTalk for Animals, Anatomy & Physiology for BodyTalkers Modules 1,2,3, Traditional Chinese Medicine for BodyTalkers, Structural Integration, BreakThrough, MindScape and Advanced MindScape, FreeFall and FreeFall 2, BodyTalk Access, BodyChemistry Specifics, BodyTalk for Plants, BodyEcology, Eastern Medicine, Pediatrics for BodyTalkers, and BodyTalk Orthopedic Evaluation, Finding Health: Mapping the Healing Process, Finding Health 2: Applied Consciousness; Fundamentals for Animals, Energetics; Body Psychology: Organs, Endocrines, Fascia and Water. She has also had training and uses Brain Gym techniques as well as philosophies from Heart Math.