Xin Hui Aw Yong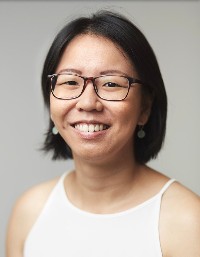 Ms. Xin Hui Aw Yong
BSc Sports Science, MSc Exercise Physiology, CBP
Clinic
The BodyTalk Centre Singapore
38 Jalan Pemimpin, #03-05
Singapore, 577178
Singapore
Phone: +65 81212845
xinhui@innsaeihealth.co
www.innsaeihealth.co
Biography
» Mandarin
Xin Hui Aw Yong was previously based in the UK, having completed her undergraduate studies in Sports and Exercise Science and a Masters in Exercise Physiology. She worked as an Applied Exercise Physiologist and Researcher in Nutritional Immunology at Loughborough and Bangor University respectively; before returning to Singapore in January 2018. With prior experience in academia using knowledge rooted in scientific evidence, she has always been interested in the epidemiology of various dis-eases. However, she was bothered by the lack of solutions or explanations to the health challenges that face many people in current society.

She discovered the BodyTalk System™ in February 2018 when she had a chronic, stabbing hip pain that could not be resolved with various manual therapies. Initially skeptical, her hip pain disappeared after two BodyTalk sessions. During her sessions, she was given explanations on how her belief systems about herself, expectations from others, physical scars, relationship with previous work, parents' worry, the transition period she was going through, and emotions of fear, worry and sadness have affected her BodyMind complex. It manifested in the form of tension in the hip, causing limited hip mobility and pain. Once these issues were brought up and 'tapped out', the pain disappeared. She continues to receive regular BodyTalk sessions and have experienced significant improvements in health on a physical, mental and spiritual level.


Intrigued by the scientific workings of this Consciousness-based Healthcare, it led her to embark on a journey to become a Certified BodyTalk Practitioner in May 2019 and BodyTalk Access Coordinator. Using BodyTalk techniques, Xin Hui seeks to restore the broken communication within an individual's BodyMind complex. She now aims to spread the awareness of BodyTalk and use it to help anyone in their journey to achieve better health, simply because she believes we all have the innate capacity to heal. Once we achieve this true state of health, we can live life to the fullest, and without regrets. During her free time, Xin Hui enjoys travelling, climbing, making pottery and cooking.

Due to her previous background in Sports Science and Exercise Physiology, she particularly enjoys working with athletes to help them with sport performance, injury management or rehabilitation. Additionally, she has an interest in helping anyone struggling with stress, anxiety, depression, headaches and chronic health issues.


Xin Hui is available for in-person BodyTalk Sessions at The BodyTalk Center clinic as well as distant sessions. Click
here
to make an appointment or contact Xin Hui via Whatsapp at +65 81212845.
She has completed the following modules:
Modules 1&2: BodyTalk Fundamentals
Module 3: Principles of Consciousness
Module 4(7): BioDynamics
Module 6: Macrocosmic BodyMind
Module 9: Matrix Dynamics
BodyTalk Access
BodyTalk Fundamentals Integration

BreakThrough
MindScape
Body Ecology
Epigenetics
CDRRRII
Orthopedic Evaluation 1
Fascial Energetics 1 & 2