Julia Evans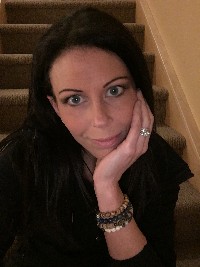 Julia Evans
BScN, CBP
Clinic
Julia's Holistic Healing

White City, SK
Canada
Phone: 306-541-3656
thelilynurse@gmail.com

Biography
My background is... Western Medicine. I was a Registered Nurse for over a decade. Only after years of suffering with Multiple Sclerosis, and being faced a traumatic near-death experience did I finally and truly opened my heart and my mind towards the notion of holistic healing and energy medicine. My beliefs have transformed.
I immersed myself into BodyTalk, searching for a better understanding of it. This modality has fuelled my passion and interest towards a journey of self healing and the ability to help others. It has given me a new perspective in what "healing" is. For your body's ability to heal is greater than anyone has permitted you to believe. Healing is not about fixing anything. It's about remembering the wholeness that has been inside all along. Balancing, synchronizing, and re-aligning the communication within. This knowledge and understanding allows me to be a better BodyTalk Practitioner.
As I broadened my knowledge, and grow a better understanding of the essence of BodyTalk, I realized the true value of it: the simplicity within the complexity of this system. It is an incredible asset within Healthcare. The foundation and premise of the BodyTalk System is the presence of the innate wisdom which allows the body remarkable ability to "heal" itself, through observation and care.
So after many years of defining patients and myself by a disease, illness or symptom, I am now able to view a person as a whole. To focus on the priorities of what each individual needs to heal. We are all whole-individuals with our own unique experiences. I've learned through BodyTalk, that those experiences should not be overlooked. There's value and wisdom on what comes up and an endless world of possibilities, beyond symptoms. Finding the root cause by addressing the whole-person and their unique story.
Julia has successfully completed:
Bachelor of Science in Nursing
Reiki
BodyTalk Course include:
(Mod 1&2) Fundamentals
Fundamentals Integration
Certified BodyTalk Practitioner (obtained)
Mindscape
Advanced BodyTalk Protocol and Procedures
(Mod 3) Principles of Consciousness
(Mod 6) Macrocosmic
(Mod 9) Matrix,
(Mod 4/7) Bio-Dymanics
(Mod 5) Lymphatic Drainage & Applied Anatomy and Physiology
I am following the path the universe has set out for me. My views have shifted, for everything shifts when you come into harmony within yourself. So... What's next?? You heal, you grow....and you help others. ~Blessed Be. Everything happens for a reason~