Courtney Quesnel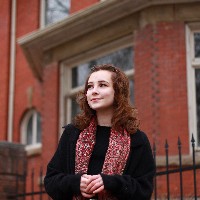 Ms. Courtney Quesnel
BSc, CBP
Clinic


Calgary, AB
Canada
Biography
Hi! It's nice to meet you. My name is Courtney and my friends call me Minnow. My pronouns are she/her.
I'm a BodyTalk therapist based out of Calgary, Alberta. I graduated from the University of Calgary with a Bachelor of Science in Cellular Biology in April 2020 and I became a certified BodyTalk Therapist in October 2020. I am currently working towards my Advanced Certification and investigating other modalities to add to my practice. I have completed BodyTalk Modules 1-7 and 9 to date. If I resonate with you, chances are good we have work to do.
Energy work has been a part of my life from the moment I was conceived. I have been discovering and playing with energy my entire life. Growing up in a spiritual household provided me with the support and space I needed to have a vast and up close understanding of energy. BodyTalk has allowed me to hone into my intuitive and energetic gifts in ways I never thought possible, all while marrying perfectly with my education in biology.
***
I've always been a largely intuitive person with strong intuitive senses. As a result, I am extremely sensitive to the experiences of those around me. At a young age, I didn't know how to tune this out or cope with it. I also didn't realize that other people didn't experience the same. This led to me experiencing intense bullying and resulting social anxiety. At the age of eight, my mother placed me in BodyTalk therapy and my life forever changed.
Life is a complex and dynamic experience. There are very few modalities or aspects that remain consistent. BodyTalk has always been there for me. No matter how challenging life has become or how much suffering I have experienced, BodyTalk has always been able to help me.
I am and always have been the friend that people go to. My sessions are no different. They provide a safe space where you can start to unravel, unwind and realign.
Let's discover your magic together.