Rezarta Shehu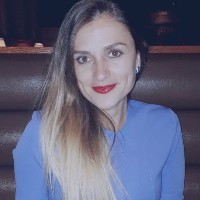 Biography
www.inesinspireme.com
phone: 416 452 2093
address: North York
email: <bodytalksr@gmail.com>
Rezarta Shehu
Was it luck… or…Was it meant to be!
Each day Rezarta Shehu confirms her answer as she gratefully supports her clients on their healing journeys. Aware of her intuitive wisdom as an inspiring spiritualist, and having a deep knowledge in astrology, she often meditated and asked for answers about her ultimate life direction. With a background in Philosophy and Sociology, and as a level II Reiki practitioner, she knew helping others was her vital journey.
When she began having some problems with her knees - and after three people in one week mentioned a certain natural healing method - she went to a BodyTalk™ System practitioner for some sessions. What an illuminating, huge shift she experienced during the first one! She learned the body communicates via energetic circuitry. Every aspect of our being - cells, atoms, and neurons – constantly communicate with each other. Stress can compromise the circuitry systems (the nervous system, for example) and create chronic breakdown of communication within the "bodymind complex." BodyTalk Practitioners strive to connect these broken lines and open communication between all of the elements of the body in order to promote healing from within with a simple tapping on various body parts.
Removing the personal blame Rezarta had carried for a visible scar from a burn on her arm when she was four years old gave her a sense of freedom she had never imagined possible. As she says in her delightfully humorous way, "… that scar on the right arm, I thought it was not important or that it hasn't impacted me at all...Haha!" Positively inspired, she began studies to become a certified practitioner, taking other fascinating courses in the BodyTalk™ System too.
She realizes how we carry so much invisible memory weight. Words we have heard, actions we have seen and feelings of failure we took on can be the reasons we feel hopeless in achieving our dreams. They block our mental, physical, emotional and spiritual joy. They make us feel unworthy of receiving gratitude and creating a loving environment wherever we are on our life journey. BodyTalk utilizes what is known as the "innate wisdom" of the body to heal itself in order to recover from any and all types of injury.
Every experience a person goes through contributes to that person's state of health. Lifestyle, genetics, history, and environment all impact the body's functioning. Stresses produced by external factors can interfere with the natural communication systems within the body. This interference prevents the body from functioning at its best and can lead to emotional and physical health issues.
So, Rezarta was led to the future as a dedicated BodyTalk System™ practitioner giving her positive answers to both questions:
Yes…it was luck. Yes, it was meant to be…
Check her website: www.inesinspireme.com where Rezarta has independently published articles as books on Amazon.
1. Everyday Spiritual, Spiritual Awakening Vol I
2. Spiritual Awakening Vol II
3. Heartline, Conversation with the Heart
4. The Brightest Dream
5. The Way to Self Love