Homeira Ghanongooi-Franke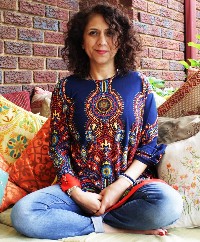 Homeira Ghanongooi-Franke
Reiki Master, Certified HeartMath Coach & Trainer, CBI, BAT, MSI, CBP, Parama BP, AdvCBP
Clinic
5 Randpark Drive,
Randpark Ridge
Johannesburg, GP 2169
South Africa
Phone: +27 83 458 1997
homeira.franke@gmail.com
www.homeirafranke.com
Biography
This universe is not outside of you.
Look inside yourself;
everything that you want,
you are already that." Rumi


When there is peace inside (healthy body-mind state), it is reflected on the outside (Environment).
I have always been very interested in Natural healing methods and have often questioned health related states.
If a person is happy, healthy and successful is it just a matter of luck? Or is it simply being in a state, where one can think well (thought), speak well (word) and act well (deed) accordingly?
I was born and partly brought up in Iran. Due to special circumstances I have been fortunate to live and further grow in different countries experiencing various cultures.
Since 1997 I am living with my family in Johannesburg, South Africa.
In this beautiful country began my healing Journey in 1998 with
Hands on Healing & Reiki. I have ever since constantly expanded my
knowledge in these two healing methods with reading and further
learning with courses.
I had heard about BodyTalk system and after reading an article about it in Odyssey magazine in 2006, a door opened and I knew I finally could find answers to my many questions about well being and health. Knowing that it would bring more benefit to my clients.
I have studied :
Modules 1& 2 BodyTalk Fundamentals
3 BodyTalk principles of Consciousness
6 Macrocosmic BodyMind
4/7 Bio Dynamics
9 Matrix Dynamics
BodyTalk Advanced Integration
BreakThrough 1
Mindscape & Advanced MindScape
TCM for BodyTalkers
Parama unit 1 and 2 + Parama unit 1& 2 Practicals
BodyTalk Interactive
Finding Health 1 & 2
Eastern Medicine
The BioPhysical Mind &
BodyEcology
The Soul's Journey-Exploring the Mind and 3 Brains
BodyTalk Energetics
FreeFall 1
BodyTalk Direct

I am a Certified BodyTalk Practitioner since November 2006 and Advanced BodyTalk practitioner since April 2011.
Ever since learning this amazing system my greatest wish was to take this modality to my Home Country Iran. In order to achieve this goal, I have completed training with Olivia Pinto, a Senior BodyTalk Instructor, and became a BodyTalk Access Trainer in November 2008 and Certified BodyTalk Instructor since July 2018.
I teach BodyTalk Access on regular basis in South Africa. Teaching Access to care takers and teachers of an Orphanage in Midrand Johannesburg as well as being a part of the IBF Access Outreach in Kenya in March 2017 has been two unforgettable highlights of my BodyTalk career.
My clinic hours are Monday to Friday From 10-17 hrs.
Come for a session and let your life take off
Looking forward to see you