Bonnie McComb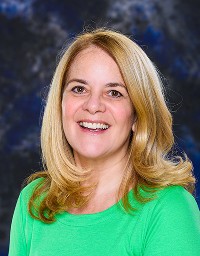 Biography
Background:
I have been a qualified BodyTalk practitioner since 2012 and have taken over 17 courses related to the BodyTalk system. I have had the good fortune to take courses and connect with BodyTalkers in England, France, Switzerland, Germany, Poland, and Canada.
Why I love BodyTalk:
BodyTalk has made a huge and positive impact on my own life journey. I started having BodyTalk sessions when a friend needed people to practice on to become a practitioner in 2004, and I soon found that it became an important healing tool for managing stress, overwhelm, and depression when I went through some traumatic life events. I loved how the bio-feedback muscle testing identified things that troubled me that I was not even conscious were troubling me until they were "named." I loved how I didn't have to verbally talk about issues. Most of all, I loved and still love how BodyTalk makes me feel a "lightness of being." When I worked overseas, I received monthly distance session just to keep me happy, balanced and stress-free. Now that I am back in Canada and retired, I still receive monthly sessions. It is just part of my being healthy protocol.
If you would like a distance or in-person session, please contact me for further information.
Testimonials:
Georgia, International School Theatre Teacher
I have been receiving Body Talk Healing and transformation sessions from Bonnie for 8 years. In this time, through Body Talk, Bonnie has provided me with enormous health and well being after each session. One of the things I loved the most about my first BT session with Bonnie was that it was incredibly calming. I was feeling a lot of anxiety and why I love BT is because there is literally no need to talk through concerns, health matters, psychological traumas, rather it is a matter of trusting the process. Bonnie begins working and listening to my body and tuning into it and my body communicates areas which require neutralisation and physical processing. The session is actually incredibly relaxing and allows me to feel completely safe and confident that it is working as it should. I was fortunate enough to receive in person sessions with Bonnie for 5 years when we worked together in Warsaw, Poland, however, through Bonnie's sharing, I learned that we can receive equally powerful sessions remotely. Once I moved to Singapore, I have been receiving Body Talk healing sessions with Bonnie for three years which have been both done by Bonnie, recorded and then sent to me or through live chats with Bonnie depending on time zones and need. Bonnie has helped me process stressful periods and situations in my life and has continued to do so powerfully through this Covid-19 period of restrictions, fears and more social isolation than I've experienced before. I have received BT sessions from others which have been good but for me Bonnie is highly skilled and incredibly tuned in to BT and her vast studies of BT and practice has made her the therapist that enables me to feel so much better, freer, more clear and happier with each session. Bonnie has a beautiful calming voice which I love listening to in recorded sessions and often will listen to a few times to really reinforce the benefits. I find BT healing sessions to be more powerful than massage, psychotherapy or any other types of healing work that I have done to help better understand my place in the world. I am so happy that I can access this huge source of strength and abundant care through BT with Bonnie.
Margaret, Bank Financial Advisor

I have been receiving BodyTalk sessions from Bonnie both in person and virtually for several years now. While I cannot understand or explain the science I find it amazing how she can spot issues in my life that cause me stress that she would have no way of knowing anything about. These issues always correspond to something in my body. Once these are dealt with and "tapped out" I always feel better. When I feel overwhelmed and under pressure I always feel a sense of peace after a Body Talk session. It is an amazing and unique way of dealing with stress. I would highly recommend getting a BodyTalk session with Bonnie.
Anonymous, Lawyer
I feel lighter and calmer after a BodyTalk session. My therapist recommended that I try BodyTalk. It was the first time I had heard about this treatment. I reluctantly tried it. I felt skeptical and did not expect any results. After the first session, I was pleasantly surprised. I felt like a weight lifted and the stress dissolved from my body. It felt like a profound shift in my energy. During the sessions, I am constantly amazed at the insights Bonnie provides. These include difficult situations and negative thought patterns that I have experienced difficulty resolving and felt lingered in my body. Bonnie has a warm and kind presence. After each session, I feel more relaxed than after other modalities, including meditation, massage therapy, and acupuncture. I highly recommend that anyone interested try a BodyTalk session with Bonnie.
Michelle, Energy Healer
Bonnie's BodyTalk session was so fascinating! Everything that came up to be balanced was so on point and deeply resonated with me. Bonnie's session brought me some wonderful insights about some issues I'd been experiencing and some much needed balancing with some emotions I'd been feeling.