Catherine Ruivivar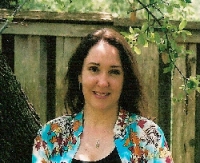 Biography
Welcome to Austin BodyTalk. I would like to share with you how I became a BodyTalk Practitioner. BodyTalk literally found me. After winning a contest to take the first module of BodyTalk, I was only a few hours into the seminar when I realized The BodyTalk System was going to change my life. And it has. I have completed Fundamental Integration, Principles of Consciousness, Bio-Dynamics, Macrocosmic BodyMind, Matrix Dynamics, Right Brain Practical, and Parama Mind Crystals. I am currently enrolled in the inspiring Parama College Unit 1, and plan on continuing my studies with Units 2, 3, and 4.
I receive BodyTalk regularly and I have found that it helps me tremendously with emotional and physical pain. It's also been wonderful for easing grief (my husband died from Leukemia) and it helps keep me calmer and less anxious throughout the day because it keeps my hormones and other systems balanced. Overall, BodyTalk gives me a superb sense of general well-being. BodyTalk sessions can move you to change what isn't working in your life or it can enhance what is working. You can look forward to positive changes, on all levels; emotional, spiritual, mental and physical.

BodyTalk can help you, just as it has helped me, my loved ones, and my growing client list. Since 2003, I have evolved with every module. I find the work fascinating and healing and I am excited to share it with others. Whether you are looking for help or wanting to experience something new, BodyTalk might just be what you are looking for.
Feel free to call or email me and I will be happy to connect with you. Please note, I respond quicker to emails.

Thank you,

Catherine Ruivivar Parama BP, CBP, CBCP, CECP, LMT
Austin BodyTalk * Where Healing Happens
Catherine is a Certified BodyTalk Practitioner and Licensed Massage Therapist. She graduated from the Lauterstein-Conway School of Massage, one of the finest massage and bodywork training programs in the U.S. She received her BodyTalk training from Dr. Ernesto Fernandez and the founder, John Veltheim.
Clinic:512.826.7605
Cell:512.826.7605
Email:catherine@austinbodytalk.com

Website: www.releaseyourheartwall.com