Kristin Pierce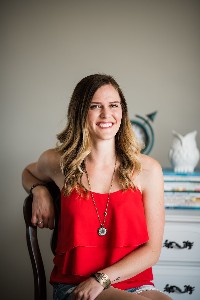 Biography
Kristin Pierce is an Advanced Certified BodyTalk Practitioner, a Registered Massage Therapist, a BodyTalk Access Trainer, and a MindScape Instructor. In 2008, she graduated with honours from Mercyhurst College in Erie, Pennsylvania. She graduated with a Bachelor of Science in Sports Medicine with a concentration in Pre-Physical Therapy. Kristin then worked as a physiotherapy assistant for a year before deciding to add massage therapy to her resume. She completed both her acupuncture diploma and her Registered Massage Therapist designation in 2010. She worked in two clinics in Ottawa, ON for two wonderful years before relocating back to Saskatchewan. In 2012, Kristin graduated as a BodyTalk Access Trainer and recently has fulfilled her dream of becoming a MindScape Instructor!
Kristin was introduced to BodyTalk when she was diagnosed with ovarian cancer in 2007. At first, Kristin was somewhat hesitant to think that "BodyTalk" could actually make her "Body Talk." However, after her first couple sessions, she experienced profound emotional, physical, and mental healing and awareness that she could not deny were results of BodyTalk. Kristin continued to receive BodyTalk sessions throughout her recovery from surgery and chemotherapy, which she attributes to her speedy healing. During this time, she found BodyTalk to be extremely powerful in helping with pain management, stress relief, speeding recovery time, and reducing symptoms. Since overcoming her illness, BodyTalk has helped Kristin and her family stay healthy and happy, and allows her to positively manage the stresses of everyday life!
BodyTalk was the missing piece of the puzzle when it came to Kristin's studies in Sports Medicine and overall health. After her dramatic experiences with BodyTalk, there was not a doubt in her mind questioning the validity of this healthcare modality. She was very intrigued with this amazing system and knew she had been introduced to it for a reason! She began her studies of the BodyTalk System in 2008. She completed her CBP certification in 2009 and achieved her Advanced CBP designation in 2011. Kristin has completed training in all of the core BodyTalk Modules (BodyTalk Fundamentals, Principles of Consciousness, Bio-Dynamics, Macrocosmic BodyMind, and Matrix Dynamics), along with BodyTalk Access, Fundamentals Integration, Advanced Modules Integration, BodyTalk Orthopedic Evaluation. She has also studied the Life Science courses which include: MindScape, Advanced MindScape, BreakThrough 1, and FreeFall 1. Kristin has been so grateful to be able to train directly under Dr. John Veltheim, the founder of BodyTalk, while attending BodyTalk Interactive. She enjoys taking courses to expand her range of knowledge to provide more in depth sessions for her clients.
Kristin is totally elated to be a MindScape Instructor in 2015. It has been her dream to become an instructor for this incredible course since she first took MindScape in 2009. She has been continually blown away by the infinite power and results of harnessing the full capabilities of the mind. MindScape has had such a positive impact on Kristin's life, that she can't even begin to describe how grateful she is to have been introduced to the course. She is excited to train students to Ignite their Intuitions to Spark their Potential and Fuel their Dreams! Get ready to harness the incredible power of your mind! To find out more about Igniting Your Intuition with MindScape, please visit www.InnerCompassAcademy.com/MindScape.html
Kristin also teaches BodyTalk Access courses which you can find listed on her website, as well as the IBA website. She enjoys teaching Access and loves seeing her students become empowered with the techniques!
Kristin is trained in a variety of healing modalities to assist her clients on their journey to ultimate health and happiness! Her multifaceted approach to healing supports the body's self-healing capabilities to provide clients with a natural and holistic solution to mental, physical, and emotional pain, ailments, stress, and dis-ease. She is very passionate about helping her clients achieve optimum health and happiness in their souls! Kristin enjoys working with clients of all ages. She encourages those who cannot make it to Inner Compass Academy in person to try a distance BodyTalk session. Kristin has seen incredible healing via distance sessions and especially recommends distance work for babies and young children.
Inner Compass Academy is a holistic healing studio and teaching Academy that aims to provide a soothing environment to enable revitalizing relaxation, and tranquil transformations. We strive to exude a peaceful, restorative atmosphere to support your health and well-being goals and to keep your soul full! We are located in Warman, Saskatchewan. For more information or for online booking, please visit www.InnerCompassAcademy.com to book an appointment at your convenience.
Please feel free to contact Kristin directly for more information or with any questions or inquiries you may have.

www.InnerCompassAcademy.com