Karyn Geeza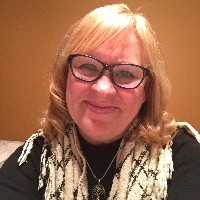 Biography
"In the greater scheme of things I try to live a more principled life, being connected to and affiliated with things that ring true with the 'me' I am revealing as I journey through this lifetime. It is not a journey without challenge but it is a fascinating one that, every day, gets me closer to living from my
authentic self."
Karyn Geeza
In 1996, Karyn Geeza was involved in a car accident. Although not seriously injured, she marks that incident as a turning point that ultimately led her to a career path in a new paradigm in health care, passionately advocating for prevention and restoration of health and wellness using NATURAL strategies. Her experiential recovery from various injuries and suicidal depression utilizing counselling, nutritional supplements and BodyTalk has provided her with a unique first-hand understanding of the multiple facets of dis-ease and the inherent role emotions and beliefs play in pain and suffering. Amazed and intrigued by how effective BodyTalk was at addressing the causal factors of her health challenges, Karyn began her BodyTalk studies, aced her certification exams and in January of 2007, at the urging of her doctor, opened a practice in Sudbury, Ontario called The Karyng Link BodyTalk Clinic.
Of paramount importance to Karyn is the creation of a safe space where she nurtures caring relationships with her clients anchored in comfort, efficiency, sound work ethics, and customer service. Whether they have a specific illness or concern, or are simply feeling overwhelmed, stressed and off-balance, Karyn draws from her personal experience and diverse education and incorporates her training in a of number techniques/modalities into The BodyTalk System to deliver a uniquely integrated healing session that effectively addresses her clients health and wellness challenges and empowers them to become active and efficacious participants in their life journey. Some of the benefits her clients have experienced include: addressing the causal factors of overwhelm / stress that have anchored depression, anxiety and suicidal ideation; elimination of symptoms of ulcerative colitis; hernia repair; relief from muscle spasms and pain in the lower back; relief of excruciating hip pain while awaiting hip replacement surgery; stabilization of blood pressure spikes; relief from repetitive occupational strain injuries; overcoming subconscious blocks to personal and professional advancement resulting in enhanced performance at work and in sports; elimination of heartburn; relief from painful menstrual cycles. Karyn's clients have repeatedly reported a sense of relaxation and an ability to handle daily stressors more effectively. They also speak of an increase in energy and mental clarity during the day while experiencing a better, deeper sleep at night, giving them an overall sense of well-being. Karyn honours both the privilege of being a BodyTalk practitioner and her gift as a healing facilitator.
You can connect with Karyn Geeza at
The Karyng Link BodyTalk Clinic
(705) 677– 8618
thekarynglink@gmail.com
www.thekarynglink.ca
Qualifying Training:
BodyTalk:
Fundaments (Mod 1 & 2)
Fundaments Advanced Practical
Principles of Consciousness (Mod 3)
Bio Dynamics (Mod 4/7)
Macrocosmic BodyMind (Mod 6)
BodyTalk for Animals (Mod 8A)
Matrix Dynamics (Mod 9)
Orthopedic Evaluation
Eastern Medicine
The Soul's Journey
Parama
BodyTalk Access Technician / Coordinator
Life Sciences:
Mindscape
Advanced Mindscape
Breakthrough
Breakthrough Intensive
Other areas of study...
Pacific Institute: Investment In Excellence
- Personal Development
- Cognitive Behaviour
- Behaviour Modification
Dale Carnegie
- Public Speaking
- Stress Management
- People Skills
Facilitator Training I
QBQ
- Personal Development
Post secondary studies in
Commerce
Social Work
Bachelor of Metaphysical Humanistic Science
Reiki I/II
EHF - Energy Healing Facilitation
Sound Therapy