Sylvie d'Hondt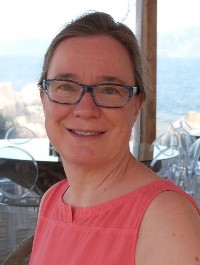 Sylvie d'Hondt
MSc, BAT, CBP, Parama BP
Clinic
118 bd des Etats Unis

Le Vesinet, 78110
France
Phone: 01 30 53 00 32
sh.dhondt@gmail.com

Biography
Sylvie holds a Master of Science from Stanford University (USA) and an E
ngineer degree (Master of Science) from Grenoble School of Engineering (INPG, France). She has worked in the computer industry for many years.

In 2001, tired of health problems, though skeptical, she consults an osteopath and a Chinese medicine practitioner. As her condition improves, Sylvie becomes open to these approaches. Still, she has no idea that one day she will quit her engineering career to becoming a practitioner.




In 2008, suffering from a violent sciatic attack for which chiropractic and acupuncture have no effect, she tries BodyTalk. After two treatments the sciatic is gone.
When two weeks later her son, suffering excruciating pain from an infected root canal, heals in two BodyTalk sessions, Sylvie decides, in a plit second, to become a practitioner.

Sylvie became certified in 2010, certified to teach Access in 2015. She keeps deepening her understanding of the system
and of the impact that consciousness, environment and life style have on well-being and health
.
She moved from California to France and is happy to develop BodyTalk in this country.

IBA & BodyTalk Education

BodyTalk Access
(Mod 1 & 2) Fundamentals 1 & 2, Fundamentals Integration
(Mod 3) Principles of Consciousness
(Mod 3)
Principles of Consciousness
Study Group

(Mod 4 & 7) Bio–Dynamics
(Mod 5) Lymphatic Drainage and Applied Consciousness
(Mod 6) Macroscopic BodyMind
(Mod 8) BodyTalk for Animals

(Mod 9) Matrix Dynamics
(BAI) Advanced Integration
PaRama 1 & PaRama 1 Practical
PaRama 2
Epigenetics
Finding Health 1 & 2
BreakThrough 1 & 2
MindScape
FreeFall 1 & 2
Treatment Intensive
Structural Integration &
Structural Integration Practical
BodyPsychology
BioPhysical Mind
Soul, Brain, Science & Philosophy
IBA & BodyTalk Education : Master Classes
Mod 1 & 2 Study Group
(John Veltheim)
Mod 3 Study Group (John Veltheim)
Mod 6 Study Group (Laura Stuve)
B
odyEcology
Master Group
(Laura Stuve)
Epigenetics Master Group
(Laura Stuve)

Non IBA Education

Anatomy & Physiology (Dr Michel Frey MD, FPESD)


San Baio (Dr Janet Galipo DOM, Dr Nancy Werner MD)
SourcePoint Therap

y™ 1 & 2 (Bob Schrei, Donna Thomson)
Quality of life (Dr Søren Ventegodt MD)
Delegate Program (Nassim Haramein)