Isobel Howe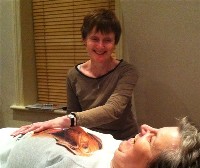 Ms. Isobel Howe
BSc (Hons), MSc, CBP-A, CBP
Clinic


Dale Abbey, Derbyshire
UK
Phone: 07743 159030
isobel.howe@talk21.com

Biography
I've had a wonderfully varied career starting with a Zoology degree at Manchester University followed by academic research and an MSc. After this I changed direction developing and managing computer systems for a large Management Consultancy then, wanting a more rewarding role, becoming Research Manager at a small environmental consultancy. Once my twins were born I was a full-time mum, later self-employed selling washable nappies which I could fit around a busy home life.
I first became interested in complementary therapies at University when a friend's mother introduced me to homoeopathy. As a Science graduate I had only ever heard it ridiculed but I could FEEL that small tablet working and I became an instant convert. Soon afterwards I took up Tai Chi and my first steps into a different way of viewing the world had been taken. Over the next few years I also visited a hypnotherapist and had some acupuncture. I could feel the value of all these approaches but also noted how certain situations would make the same symptoms return as if some underlying issues remained unresolved. A visit to a therapist would restore me but there was still a feeling that what I really needed was something that could go deeper.
Then in November 2009 I had a BodyTalk session. I went along wondering what this would be like and was so blown away by that first session that I have never looked back – this was the therapy that I had been waiting for! Those underlying causes were being addressed and I felt more at peace than I could ever remember. This was even more remarkable considering the state I was in at the time. My extremely stressful marriage was almost at an end, I was having huge problems with my digestion and had lost over one and a half stone from my already slender frame so I was a bit of a mess!
Over the next months the BodyTalk sessions helped me to gain clarity of thought and my husband and I parted, my digestion settled down and I started to regain weight. I took the Access class which gave me a technique to use on myself to maintain progress in between BodyTalk sessions and life was looking up. I got divorced and felt inspired to take a new direction and train as a BodyTalk practitioner, so I took Fundamentals in March 2011, qualifying as a Practitioner later that year. My health has continued to improve, I've got my bounce back and I can feel the layers of baggage peeling away.
The BodyTalk system is more than a therapy - each course allows such profound shifts in perspective that it truly is a journey. So when I take a new module to offer more to my clients and bring greater awareness to my sessions I find I enrich my own life too and my desire to learn more just increases. I just love being a BodyTalk Practitioner!
The courses I have studied so far are listed below. If you would like more information about any of them go to the 'Courses' section of the website and click on 'Course Descriptions' for an overview.
Courses
BodyTalk: Fundamentals
BodyTalk: Fundamentals Integration
BodyTalk: Principles of Consciousness
BodyTalk for Animals
Finding Health: Mapping the Healing Process
Eastern Medicine
Founders Treatment Intensive
MindScape
BreakThrough 1

BreakThrough 1 Practical

FreeFall 1