Heather North Lewis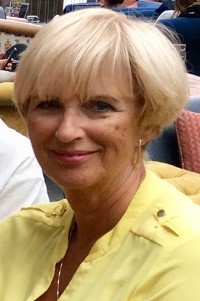 Mrs. Heather North Lewis
CBP, Parama BP, AdvCBP
Clinic


Trinity, Jersey JE3 5AF
UK
Phone: +44 1534 610514
bodytalkheather@gmail.com

Biography
Modules completed:
BodyTalk Access
BodyTalk Fundamentals
BodyTalk Principles of Consciousness
BodyTalk Biodynamics
BodyTalk Lymphatic Drainage and Applied A&P
BodyTalk Macrocosmic BodyMind
AnimalTalk
BodyTalk Matrix Dynamics
BodyTalk Advanced Integration
Body Ecology
Evolve Epigenetics
PaRama Unit 1 & Practical
Finding Health 1 & 2
Founder's Treatment Intensive
Traditional Chinese Medicine for BodyTalkers
MindScape & Advanced MindScape
Structural Integration for BodyTalkers
Orthopaedic Evaluation for BodyTalkers
Eastern Medicine
Anatomy & Physiology
BreakThrough 1 & 2
Weight & Metabolism
Background:
Heather, the BodyTalk practitioner for the Channel Islands, works from her tranquil clinic in Trinity. She has always been interested in complementary health and recognises the huge potential of BodyTalk as an all-encompassing, non-invasive health care system.


During her 14 years of practicing BodyTalk she has helped people get over insomnia; release emotional problems; combat muscular pain; heart problems; lymph oedema and lymph problems; reduce the toxic burden on their liver; tackle emotional problems such as depression or anxiety and embarrassing ones such as bed-wetting. She can also help with sports injuries, age-related symptoms and finds children very responsive to treatment. She can work on a very deep level with microbiomes and Epigenetics, both of which are an incredibly effective approach, and so much more!


She sees clients at her clinic on weekdays until 7 pm, and conducts "distance" sessions for clients who are either not well enough; are travelling; or just too busy to come in person.


Having worked for 18 years as an image consultant, 7 years with an international jewellery firm, and 4 years selling designer clothes, becoming a practitioner was a complete career change – but after years of helping people with their outside, she wanted to help on their inside! She first trained in July 2004 and gained her advanced qualification in June 2012, one of the few practitioners in the UK to do so.


For over 3 years she was the secretary of BTNUK, an organisation set up to promote BodyTalk in the Uk. She also set up a not-for-profic association in Jersey to provide support for local therapists via a web directory and promotional events and exhibitions.


She periodically runs BodyTalk Access and MindScape courses, both of which give the client some basic BodyTalk techniques to use.
Heather also offers BodyTalk lymph drainage, Cranio-sacral Fascial Balancing and sub-health analysis.


To make an appointment or find out more please contact her at the details above. Gift vouchers are available.


Clinic times for in-person or distance sessions:
Monday - Friday 9.00 am - 7.00 pm
Testimonials:
"After my mother had a full body scan last week they rang the next day to say that though the liver abscess has not completely gone, it has diminished sufficiently to say they do not need to see her again. We are delighted. Once again thank you for all your work, which has been a great help in getting her there!" (Chris, London) (distance session)



"I wanted to tell you that since your session with me my back has been absolutely fantastic! Before I saw you I was still taking Tramadol regularly, but I haven't taken so much as an aspirin since then." (Kirstene, Jersey)



"You asked for some feedback because some of the work you were doing was new. Most of the focus was on the relentless hay fever going on for 2 months, and not helped by antihistamines. ( I tried them all, even a prescription- but none worked for more than a day or two.)


I usually understand most of what you say in the recording of my sessions. This time, it was pretty unclear to me. Probably because it was new stuff! Immediately after the session, my symptoms were 90% cleared, for about 48 hours.


The next few days after that, it went down to about 60/70%. (with pollen count still high according to BBC in our area)


I eventually took the antihistamines that had not worked before. They did work after your treatment. After 3 days of taking antihistamines, I stopped. Only occasional symptoms after that." (Lia, Scotland)
"Many thanks for this week's session. I have no doubt that BodyTalk played a big part in helping to eliminate the cancer and I am very grateful for all your help and expertise." (Peter, Jersey)
"Just wanted to let you know that my son did not wet himself 3 nights in a row. Let's hope this is a new pattern now! :)" (Natalia, Middlesex)


"I would like to thank you as I arrived in London and for the first time didn't have anxiety. And this is my first time when I stayed at my new home with calmness. Also after our session I had a lot of willing to constantly sleep and rest." (Dominika, London)