Tori Amoscato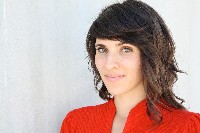 Biography
An LA native and life-long dancer, Tori found Body Talk while living and working as a graduate student in New York. Her interest was piqued when she found noticeable relief of her chronic pain after only one Body Talk session. She took her first Body Talk class upon moving back to the West Coast, was certified, and began to practice.
Now a California state Licensed Acupuncturist (L.Ac.) and Certified Body Talk practitioner with a bicoastal practice, Tori is also a Pilates instructor and an avid dancer. She works with clients worldwide on varied health issues, including orthopedics and pain, especially the connection between emotional distress and physical pain; women's health to help support fertility and healthy pre-, during, and post-pregnancy; and internal medical concerns as well as issues surrounding healthy aging. She loves sharing her interests in the body and in this amazing system, and is consistently inspired by her clients' transformations.
She is available by appointment for both in-person and distant sessions.