Caroline Geginat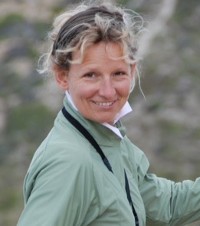 Mrs. Caroline Geginat
Physiotherapeutin, Therapeutin für klinische PNI, CBP, AdvCBP
Clinic
Schaffhauser Strasse

Zürich, 8006
Switzerland
Phone: +41 79 215 16 81
caroline@innami.ch
www.innami.ch
Biography
» German
Human health and human nature have always been of deepest interest to me. In addition to studying and applying various conventional physical therapies I was increasingly drawn to more holistic approaches.
When I came across the BodyTalk System™ during my years in Singapore, I was fascinated instantaneously.
As Whole Healthcare™ BodyTalk gives the opportunity to look at all levels of health – physical, mental, emotional and the environment.
By combining knowledge of western medicine with highly recognized ancient and modern healing methods as well as findings of modern physics and consciousness research the BodyTalk System™ is a state-of-the-art approach to integrative mind/body medicine.
Every person has its very unique experiences, memories, emotions and beliefs. And every bodymind has an inborn intuitive knowledge about how our organs and systems are functioning. This innate wisdom of your bodymind knows exactly what is important for self-regulation in this moment of time - what has priority. It is stunning how accurate the bodymind complex can be in bringing its needs and (lost) connections to awareness. Underlying causes and concomitant factors of dis-comfort and dis-ease can be revealed.
I like working with the simple, gentle and effective techniques and to ask what areas needs attention and to reestablish communication within the bodymind. Respecting the body`s own needs rather than focusing on a symptom is one of the advantages of BodyTalk for me.
I treasure that BodyTalk acknowledges all fields of healthcare, incorporates the latest scientific research and - at the same time - values the power of intuition.
As BodyTalk is integrative, my knowledge and experience of many years of physical therapy and the insights of other holistic modalities smoothly merge into my sessions, individualyl and intuitively.
To me, personally and professionally, BodyTalk is a fascinating whole healthcare modality, a constant exploring of personal life's aspects and an amazing adventure providing new possibilities to grow every day.
Extending knowledge, exploring ideas, gaining and exchanging experiences is vital to me and on my personal and professional path I am always grateful for the opportunity to share part of one's journey – called life.