Terry Greig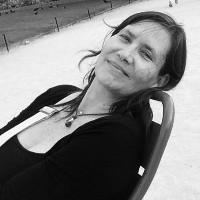 Mrs. Terry Greig
PaRama BP, CBP, CBP
Clinic
1 Abingdon Road
Kenilworth
Cape Town, WC 7708
South Africa
Phone:
terryg@zsd.co.za

Biography
Working with the
wisdom
that is has been of interest to me for many years and I have explored a variety of healthcare modalities as a client. All of which have had a role to play, however it has been
BODYTALK
and the
IBA Life Sciences
that have profoundly changed the way in which I experience life.
I first received BodyTalk in 2004 which was a huge healing experience for me. I couldn't wait to start studying and learning how it all worked. I certified as a Practitioner in September 2005.
I continue to learn and broaden my experience through my work and studies and I also audit courses to deepen my understanding and keep abreast of this dynamic system.
I go for regular BodyTalk sessions and the healing and peeling of the layers has been nothing short of extraordinary in my personal growth and journey.
I love creativity and diversity so life before BodyTalk has taken me around the world to many places, meeting people and sourcing ideas and products for the formal retail clothing industry and then for my own business buying furniture, pottery and treasures for the world of home interiors.
I am blessed to share life with a wonderful husband and two beautiful children.
I am passionate about BODYTALK and look forward to welcoming all adults and children to my full time practice who wish to experience this truly amazing HEALTH and LIFE CARE system.
My training thus far:
BodyTalk Fundamentals 1 & 2

Anatomy and Physiology studies

BodyTalk Principles of Consciousness

BodyTalk Matrix Dynamics

BodyTalk Bio-Dynamics

BodyTalk Macrocosmic Bodymind

BodyTalk Chemistry Specifics

BodyTalk Access

Right Brain Practical with Dr John Veltheim (2006)

Advanced course Pa Rama Unit 1 and Practical with Dr John Veltheim (2008)

Advanced course Pa Rama Unit 2 and Practical with Dr John Veltheim (2010)

Pa Rama Breakthrough 1 & 2 with Esther Veltheim

Mindscape

Freefall 1

Founders Intensive with Dr John Veltheim (2013)

Eastern Medicine with Dr John Veltheim (2013)

The Soul's Journey - Exploring the Mind and the Three Brains with Dr John Veltheim (2017)

BodyTalk Direct with Dr John Veltheim (2019)

Body Ecology with Dr Laura Stuve (2019)