Lisa Marie Wenger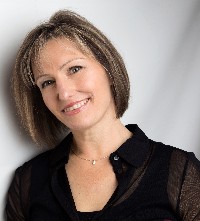 Biography
I am a designated accountant. I've run an active business with my husband for the past 10 years. I have 3 children, 1 of which is still in elementary school.

I was continually searching for that elusive work/family/life "balance" & failing miserably. The physical manifestations in my body of the accumulated stresses in my life seemed to be compounding exponentially as I got older. High blood pressure and Bells Palsy were ongoing challenges for me.

Despite exercising, eating & living "healthy", I felt terrible, I was unhappy and I felt angry all of the time. I was tired of not getting answers from medical community. A solution" for one problem seemed to create a new problem which required a separate "solution" ....and round and round I went. I was exhausted, I could barely make it through my days, and my schedule wasn't slowing down to wait for me. At that point I was up to 10 pills/day to treat various things, not counting herbal supplements & vitamins. Basically, I was sick & tired of being sick & tired.

Then I took a BodyTalk Access course. I started doing the simple Access routine every day, I took responsibility for my own wellness. I felt empowered, things started to change, I began to feel better, my energy came back. One thing led to another and I became a certified BodyTalk practitioner one year later in December 2016. I went from thinking my body was out to get me, to being absolutely fascinated by it and its ability to heal itself.

BodyTalk is the language through which the body can reveal its whole story, piece by piece, to begin the process of healing itself. BodyTalk allows every possibility to be explored to bring about optimal health. Let me introduce you to the BodyTalk Protocol and allow me to be the voice for your body.

You can find me on Facebook at Lisa Wenger BodyTalk
I have taken the following BodyTalk Courses: Access, Mod 1 & 2 Fundamentals, Mod 3 Principles of Consciousness,
Mod 4(7) Bio Dynamics,
Mod 5 Lymphatic Drainage, Mod 6 Macrocosmic BodyMind,
Mod 9 Matrix Dynamics, Advanced Integrated, Parama 1.
I have also taken the following Life Science Courses: Mindscape, Advanced Mindscape, Freefall 1 & 2