Minal Niraj Shah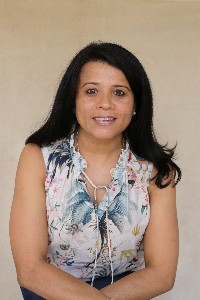 Mrs. Minal Niraj Shah
BSc Optom, Reiki I,II and III, BAT, CBP
Clinic
Grevillea Grove,
Westlands
Nairobi,
Kenya
Biography
I have always been curious about the magnificent human body and its indefinite potential, how different lifestyles and the various emotions affect its health and its profound ability to heal itself. Blood, knives and needles scare me, and that kept me away from studying medicine. I studied the human eye and practiced as an optometrist since 1996. While working, I extensively read about complementary healthcare modalities, natural food supplements and keeping fit. Having four infants in the house with continuous health issues, I began implementing home remedies and tried various alternative therapies. This led me to the Body Talk System.
For me, Body Talk is an effective and safe holistic healing modality that addresses and balances all aspects of the body-mind complex to help achieve improved overall health. It combines ancient wisdom with modern science to bring a very systematic approach to health-care providing deep long-lasting results with no negative impacts.
I am a certified Body Talk practitioner since September 2019. As a healthcare professional and a mother, I consider my responsibility to provide effective interventions for healing. Body Talk not only encompasses the attributes but also helps me through my own holistic path.
My goal is to take Body Talk to the depth of my country, Kenya. I am eager to study advanced Body Talk courses to further heighten my understanding of the magical human body.
I have studied:
·

Body Talk Fundamentals Module 1 and 2

·

Body Talk Advanced Protocol and Procedure

·

Reiki Levels I II and III

Principles of Consciousness



Clients have shown improvement in conditions like; indigestion, phobias, allergies, self-esteem issues, depression, eczema, poor memory and concentration, insomnia, hormonal imbalances, lymphatic drainage, injuries, anxiety, epilepsy, auto-immune diseases, and many more.
"EVERYTHING IN THE UNIVERSE IS WITHIN YOU. ASK ALL FROM YOURSELF."RUMI
Most people schedule appointments to address a health issue, some are curious to know more about Body Talk and some just want an overall balance with their health, relationships and work.
I am available for appointment for both in person and distant sessions. To make an appointment for a session or for information. Call me on +254721762801 or email me at minal2000@live.co.uk