Ange Trenga-Anderson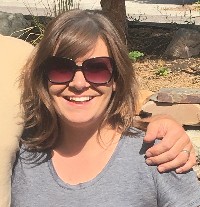 Biography
Certified PaRama BodyTalk Practitioner
Advanced BodyTalk Instructor
Senior AnimalTalk Instructor
Certified BreakThrough Instructor

BodyTalk Courses Completed: BodyTalk Access, Modules 1, 2, 3, 4, 6, 7, 8a (AnimalTalk), 9, Advanced Practical, Manual Lymphatic Drainage, Anatomy and Physiology Modules 1, 2, and 3, Right Brain Practical, PaRama College Units 1 and Unit 2, BodyTalk Interactive, Family Constellations, BreakThrough I and II, FreeFall and Mindscape.
BodyTalk Courses Taught: BodyTalk Access, Modules 1/2, Modules 1/2 Advanced Practical
BodyTalk for Animals Taught: BodyTalk Access for Animals, BodyTalk for Animals (Mod 8A),
BreakThrough Courses Taught: BreakThrough I, BreakThrough Practical.


Ange Trenga, Certified BodyTalk Practitioner, Certified BodyTalk Practitioner for Animals and Instructor, teaches the basic levels of the BodyTalk System. Ange developed the AnimalTalk curriculum for the International BodyTalk Association. As author of the AnimalTalk manuals and Senior AnimalTalk Instructor, she is invited to teach BodyTalk and AnimalTalk internationally. Ange is also certified to teach the basic levels of BreakThrough.

Ange currently practices in Missoula, MT, offering in-person and remote BodyTalk sessions to adults, children and animals. Ange offers BodyTalk and BreakThrough seminars all over the US and Internationally.

Ange blends her education and training in trauma advocacy, addictions recovery, life transitions, child development, biology, animal communication and training and social sciences with her formal training in the BodyTalk System, Reiki System of Natural Healing, Tellington TTouch and Trauma Recovery and Advocacy. She also offers experience in working with emotional and behavioral issues of animals. Ange is one of the founders of the Portland BodyTalk Association, as well as the Montana BodyTalk Association.

Students who have studied BodyTalk, AnimalTalk or BreakThrough with Ange consistently report a positive and fun learning experience. Her seminars are presented with a tremendous depth of knowledge and material is presented in clear and organized manner.
"Ange presented the course in a dedicated, loving energy, I felt safe and encouraged. I am totally in awe of this experience--I will never be the same, thank you so much."
With her life-long love for teaching and working with the health and healing fields for people and animals, Ange brings great depth and commitment to her work.

"Through years of work in the social service field, I observed the ways in which we all struggle, feeling 'stuck' in many areas of our lives. I came to understand the strong connection between physical pain and emotional stress. As a result, I grew determined to find a health modality that addressed the mind and body simultaneously and holistically. I found the BodyTalk System. I've been astounded by BodyTalk's power to facilitate safe, fast and effective healing. BodyTalk has helped me get 'unstuck' and move forward in my life. I am thrilled and honored to have learned this exciting system and share it with other people and animals."
-Ange Trega, CBP, CBI
*Ange is currently on maternity sabbatical from teaching but looks forward to returning to teaching in the future.