Seminar House in the Healing Bavarian Forest
Printed from http://www.bodytalksystem.com//learn/news/article.cfm?id=1009 on Jan 27, 2022.
Jan 27, 2017
By Sabine Marschall
My name is Sabine Marschall. Five years ago, my soul's journey took me to a very special place called Eizersdorf in the Bavarian Forest of Germany. Amazingly, several years later, I was able to realize my dream of creating a center that fosters consciousness and connection right at its heart.
In October 2015, I officially opened the "Seminarhaus am Goldsteig." We have four practitioners who all offer BodyTalk. Goldsteig is a breathtaking 660 kilometer (410 mile) hiking trail that crosses the entire Oberpfälzer and the Bavarian Forest. It runs by castles and passes by more than a thousand little lakes. This special trail passes our Seminarhaus directly. The house is located in a village of 30 inhabitants in between Passau and Deggendorf.
The house at Goldsteig was built by my partner, Alfred Feichtmeier, in the 1980s. In 2010, we came to know each other and love each other. Through our connection and our own efforts to live mindfully, we envisioned a plan to create a space where people can meet one another at a heart level. One part of our concept was to create "Oasentage" or "Oasis Days" where you can feel like you relax in a sanctuary of calm. In our present day, there is such a need to slow down, breath, recover, and also to find and connect with like-minded people. It turned out that our seminar house has a unique healing energy, owing surely to where it is situated. The Bavarian Forest is known for its dense, healing powers and we are happy to share this with people. It is certainly the right place to teach and attend consciousness-based healthcare seminars.
My personal journey with BodyTalk began in 2007 with sessions by Gudrun Lentner, who has become a friend, colleague, and mentor over the years. After several years of suffering, I realized that the BodyTalk sessions made my life easier, so I decided in 2010 to learn BodyTalk myself. I have been in practice now since 2011 (I started in Gudrun's clinic). In close co-operation with Gudrun, I coordinated and supervised numerous BodyTalk and Life Sciences seminars in Erding near Munich. With the opening of my own seminar house, we started coordinating our seminars there instead. While Erding was a relatively central location for many, it proved no longer feasible due to the premises and high costs. At Seminarhaus am Goldsteig, instructors and participants now have the opportunity to teach and learn in a far more comfortable and learning-friendly environment. In 2015, I was able to become fully self-employed with my BodyTalk practice and the seminar house.
The magnificent view and the wonderful landscape around the Seminarhaus allow students to concentrate on the essentials during courses and fully recharge their batteries during breaks. The energy of the surroundings and the rooms have been having a very positive effect on the learning climate and the individuals who come.
I was very pleased that Claudia Schembri-Heitmann taught BodyTalk seminars here last year, and I am thrilled that some international Instructors have accepted my invitations to teach here. Andy Spencer will teach MindScape and Advanced MindScape coming up in February, and Karen Best will be teaching several advanced BodyTalk modules throughout the coming year [INSERT LINK HERE]. I would be happy to coordinate seminars for other instructors, too. I would feel very lucky if the "Seminarhaus am Goldsteig" became a central location in BodyTalk training.
My task as coordinator is to create a pleasant learning environment and to support the group energy, so that everyone can take their place in the group. I am supported by my life companion, Alfred Feichtmeier, who built the house with so much heart and energy, and who also carries the hugely supportive role as the male matrix holder. Our intention was to create a space where people can meet, learn together and from each other, and feel comfortable right from the beginning. We feel we were able to realize our intentions and much more here at the Seminarhaus am Goldsteig.
More About Sabine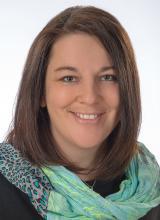 1. If you could be doing anything in the world at this moment, what would it be?
I would help the world, so that peace and freedom could be found in every single person. I want to help through my gift to provide a space for development in consciousness--both in BodyTalk sessions and by offering the space of my seminar house.
2. If you had to change your name, what would you change it to and why?
I have never felt the need to change my name. I love it.
3. What is the best piece of advice you were ever given?
It is a complicated phrase to translate, but it translates as "What is, may be and what be maybe can change." It means that all that is, is as it is, and yet all that is can change. It means to give up resistance.
4. Do you have a favorite personal saying or mantra?
What lies ahead and what lies behind us is nothing compared to what lies within us. And when we carry what is within us out into the world miracles happen.
5. Why BodyTalk, Access or the Life Sciences?
With BodyTalk, Access and the Life Sciences, I get to know myself better and better.

Print this Article |

Facebook |

Twitter