Planting Roots in Magical Kenya
Printed from http://www.bodytalksystem.com//learn/news/article.cfm?id=1021 on Jan 17, 2022.
Jun 16, 2017
By Homeira Ghanongooi-Franke and Marie-José Dolleman
"Magical Kenya" is the name of the Kenya airways Boing 787 in which I embarked on my journey to Nairobi, the capital of Kenya, to share BodyTalk Access magic. This wasn't a coincidence, as the trip turned out to be magical in every way.
Kenya is a vibrant and colorful country, but their healthcare system has been in turmoil. Public health is poor, and there was a 100-day health strike earlier this year that took a heavy toll on the majority of Kenyans, as most of them cannot afford private care.
If you search for BodyTalk practitioners in Kenya on the IBA website, you will see five CBPs, all of whom are keeping our flags up promoting BodyTalk. One of these very active CBPs is Marie-José Dolleman in Nairobi--the lady who invited me and coordinated my trip without a single day of relaxation. Another practitioner is Ruth Horsey, the owner of Horsey Retreat Centre in Timau. She opened her house to host us on her beautiful farm in the foothills of Mount Kenya.
(Kindly "Like" the BodyTalk Kenya page on Facebook as a sign of your support.)
Thanks to Marie-José's good contacts and the help of Jean Thomas, another CBP from Nairobi, we were able to give a BodyTalk presentation, teach the Cortices Technique, and conduct sessions on more than 30 kids and caregivers at Restart Africa–a place of hope for many abused children and streets kids in Gilgil, Kenya. Marie-José and her fellow Kenyan BodyTalkers hope to do more of this kind of work in communities.
On March 4th of this year, we trained over 30 students in Faraja Cancer Center in Nairobi. On March 7th, we graduated 10 Access Technicians in Nanyuki (including two 82-year-old ladies). And on March 8th, we were able to train 20 participants in BodyTalk Access thanks to the generous contributions of the IBF (International BodyTalk Foundation) and Winds of Change Foundation which allowed for the transportation and accommodation of Kenyans from their rural areas.
Of these 20 students, ten were from CHAT (Community Health Africa Trust), three were nurses from Nanyuki Cottage Hospital, and two were Community Health workers from Grevy's Zebra Trust. There were also two sisters from Kariobangi (the slum area of northeastern Nairobi) and a social worker from Restart Africa. The social worker was extremely delighted to see the changes in the kids and caregivers after only one BodyTalk session. The two remaining participants included the Head Syce (horse handler) from Horsey Retreat Centre and Primrose, the Access Technician from Horsey Retreat Centre, who is helping local people and animals in Timau with her Access magic.
The ten participants from CHAT all came from rural areas and were from a variety of tribes: Samburu, Rendille, Turkana, Kikuyu etc. They will carry the tools they learned to their families and communities where they will be able to use BodyTalk Access techniques and Fast Aid when faced with emergency situations. Each of these tribes has its own language and unique cultural background. Marie-José and the other local CBPs plan to work more with these contacts in the future to bring the basic BodyTalk trainings to them in their native tribal languages. Marie-José is currently working with the IBA on plans for picture brochures and manuals to do further outreach in these communities.
Bringing BodyTalk to these rural tribal populations will change how they feel about their health and wellbeing. It offers a great opportunity to empower these communities, as well as offering the potential to bring them together in their struggle to survive in such a harsh climate.
Kenyan CBPs Marie-José Dolleman, Ruth Horsey, Cynnie Falconer-Taylor and Jean Thomas are excited with what we managed to accomplish during this trip. It was great and inspirational having their support.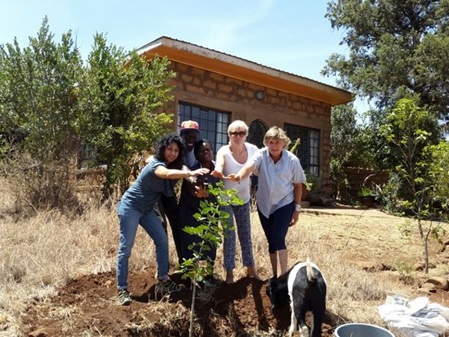 On March 9th, to fully implement and anchor our BodyTalk magic in Kenya, we planted an Erythrina tree, also called a Lucky Bean tree. This magical little tree was planted in Timau, Nanyuki on the foothills of Mount Kenya in front of Ruth Horsey's BodyTalk practice at Horsey Retreat Centre.
Our intention in planting this tree is to truly "root" BodyTalk in Kenya. May this tree grow and bring good luck, health and success to BodyTalk and to Kenya.

Print this Article |

Facebook |

Twitter