South African BodyTalk Association Wellness Day
Printed from http://www.bodytalksystem.com//learn/news/article.cfm?id=1024 on Jan 17, 2022.
Jun 16, 2017
By Estie Mattheus
The
South African BodyTalk Association (SABA)
is an association of current IBA instructors, practitioners and students from across South Africa. SABA is committed to continually growing consumer awareness of the BodyTalk System as a fully integrated WholeHealthCare system and promoting its benefits to humans and animals.
SABA regularly participates in Wellness Days and the last one was on Monday, June 5, 2017 at one of the largest banking groups here in South Africa, at their Johannesburg head office.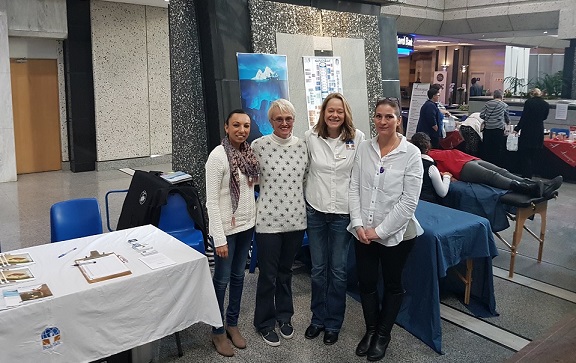 From early in the morning, a small group of enthusiastic and dedicated volunteer BodyTalk practitioners were bombarded with questions from the bank employees. The queries ranged from generalized ones like "Can BodyTalk help with ...?" to specific questions like, "I have a pain in my shoulder, can BodyTalk help me?"
[The photo above shows their setup at the Wellness Day with practitioners Harshana Daya, Estie Mattheus, Tracy Lester, and Belinda Gentle.]
Every person who came by our BodyTalk exhibition area was given a brief explanation along the lines of:
"BodyTalk is a WholeHealthCare system. No matter what the physical, mental or emotional symptom is that your body is presenting, as we work with your body's innate wisdom and its specific priorities, we can assist your body to start addressing any non-communication areas. As a result, you might find that your body starts to address the symptoms."
I am happy to say that every single person walked away with our printed 2016 SABA Newsletter.
SABA had two plinths (massage tables) at the ready where our small team of practitioners took turns performing mini-sessions on the employees. As awareness of what we were doing spread to the Wellness Day attendees, a queue started to form. And as more of our SABA practitioners arrived, we ended up with four plinths. A large number of mini-sessions were done that day!
As the day came to a close, we finished our work. However, as this work continues to spread and we are invited to attend more Wellness Days, we know that the awareness of BodyTalk is spreading throughout South Africa. It won't be long before our SABA Certified BodyTalk Practitioners will be inundated with new clients!
It was a job well done by the small but fantastic team who, once again, stepped up to the task and volunteered their valuable time and skill to spread BodyTalk awareness. Their work that day will benefit all the Certified BodyTalk Practitioners in South Africa, and will help to circulate BodyTalk awareness across our entire continent.
Other SABA Public Awareness Campaigns
SABA was invited to showcase BodyTalk and do mini-sessions for interested people at the Bankmed Health Fair in Rosebank on May 12th. We had queues of people wanting sessions and phoning their friends to come in for sessions. Over 120 mini-sessions were done that day by Tracy Jay Lester, Beate Schulte-Brader, Belinda Gentle Mendes Claire Bless, Marilyn Courland Jordan, and Mihaela Dumitru Maritz.
On May 7th, Beate Schulte-Brader presented BodyTalk to hundreds of professionals at the Professional Minds Conference. Joining her were Tracy Lester and Caryn Childs, representing the SABA committee.
SABA participated in the The Banking Association South Africa Wellness Day on April 21. Many sessions were done and there were many shifts! We wish to thank Bankmed for inviting SABA. The practitioners who participated were Tracy Jay Lester, Beate Schulte-Brader and Bianca Cassingena.
Christine Conradie and Beate Schulte-Brade did another brilliant presentation on BodyTalk at the Wits School of Public Health on March 15, taking state-of-the art natural health care to new heights.
There are also upcoming campaigns in Roodepoort (with 14 practitioners scheduled to attend) and one in Cape Town on July 17.

Print this Article |

Facebook |

Twitter