BodyTalk Touches Delhi, The Heart of India
Printed from http://www.bodytalksystem.com//learn/news/article.cfm?id=1096 on Jan 17, 2022.
Jul 16, 2019
By Indu Aggarwal
"Reach high for stars lie hidden in you. Dream deep, for every dream precedes the goal"
It all started with a daydream I had in the middle of BodyTalk: Bio-Dynamics (Mod 4/7). I asked the question if anybody had tried or would be interested in taking a BodyTalk class to India. No one seemed to know the answer. I checked on the IBA website and found a lone practitioner, Suresh Dagur, in India. A year passed by and I met John Veltheim in San Jose for the first time and asked him. It was encouraging to hear that John had been to India a long time ago and there was interest in BodyTalk only if he had stayed in India!
So, I brought up this topic in the IBA Members Meeting in March 2018, with the hope that someone else might also be interested in bringing a BodyTalk class to India. This time, the universe heard my call and whispered it into the ears of Homeira Ghanongooi-Franke in South Africa. Right away, she responded and agreed to help me with making this dream a reality. I reached out to Suresh in India and he was also interested. So three people from three continents who had never met before united in the common purpose of bringing BodyTalk to Delhi. A BodyTalk Access class had been taught once before at Pune, but never in Delhi.
We started meeting regularly to plan our mission. We knew that we were dealing with a lot of unknowns and that we could end up with no interest and no attendance in class or public talks. But our decision was to take a chance, set a date, move forward and just drive our matrix energy towards India. We kept John, Paul and Esther (IBA CEO and Founders) aware of our plans and took their direction to limit ourselves to only one location--Delhi--and keep our focus on raising awareness with public talks, Outreach projects and a BodyTalk Access class. Since we needed to make this class accessible to the Indian economy, we depended on a lot of support from our families to reduce the cost.
Slowly but surely, the matrix energy started flowing. India opened its arms and welcomed us in its heart--Delhi. We researched a few venues for a public talk and class but found that they needed commitments of a certain number of people and would cost a good amount of money. Then to my amazement, my cousin, Ashwani Khurana, a well-known Delhi environmentalist, invited us to stay at his beautiful farmhouse. In addition, he offered us the privilege of hosting a BodyTalk class in his world-renowned eco-friendly golf course, Karma Lakelands for free!
In South Africa, Homeira was able to obtain older editions of Access manuals at no cost from the International BodyTalk Foundation (IBF) and Suresh lined up another public talk venue at Rotary Club in the Imperial Hotel of Delhi! We were on our way! Eventually, two Outreach projects came together as well--one at Delhi preschool, Tender Feet, owned by Anu Khurana and the second one at a women's college at Bhiwani, three hours away from Delhi. We were just humbled how the BodyTalk matrix made it possible to deliver 5 events in 7 days, including a visit to the Taj Mahal, completing Homeira's dream. I am still in awe and forever indebted to Homeira, Suresh and our India families for trusting us and being our fellow dreamers.
The photos below document our journey.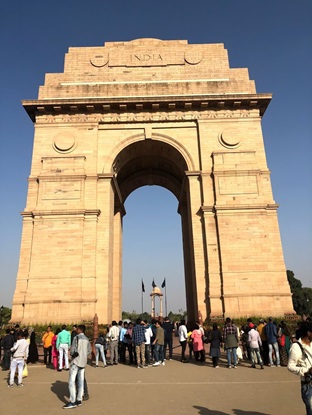 This is the original flyer for the Access class at Karma Lakelands.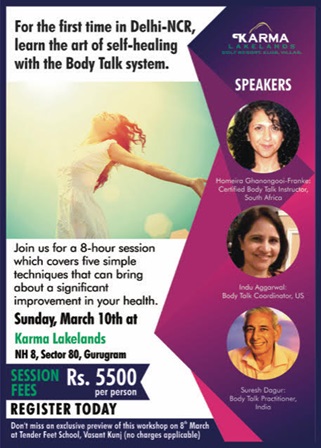 The first BodyTalk Outreach event we held was at a preschool in Delhi, Tender Feet, where we taught Access to 15 teachers (below). They learnt everything so quickly and plan to teach the Cortices technique to little kids.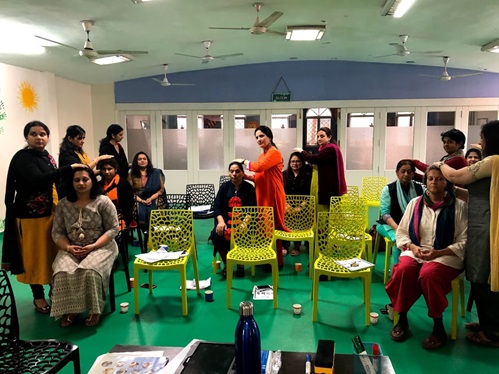 Both public talks were attended by an elite group of people who were open to the powers of healing and curious about The BodyTalk System. It was gratifying to bring in representatives from the popular magazine Life Positive and also a staff member from a retreat center Abhibindu to our public talk at Vasant Kunj (below).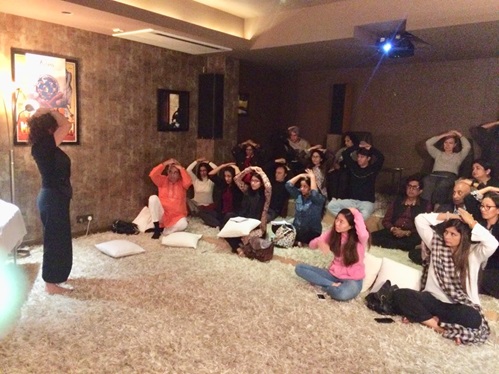 The Rotary Club event was a formal lunch attended by over 50 people at Imperial Hotel Delhi (below). We are very thankful to Dr. Bhandari, a well-known cardiologist, for setting up this event and the Outreach event at Bhiwani college. The talk was also followed by a demonstration session. We were delighted that BodyTalk received such a prestigious audience and the summary of this event was also published in the Rotary Club newsletter. There was a lot of interest in attending the BodyTalk Access class, unfortunately it was very short notice.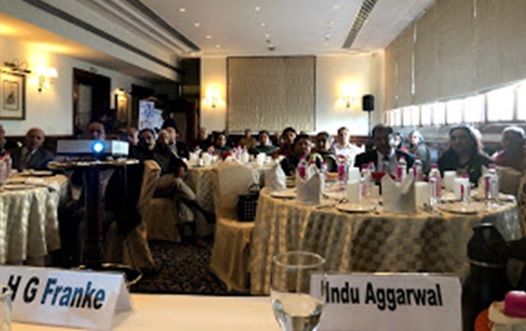 Karma Lakelands, the venue for our Access class, is not too far from the center and traffic of Delhi, but it is hard to imagine a place so serene and beautiful, yet so close to Delhi. The environment is conducive to health and healing, so it was the perfect setting for our class. Thanks to Aashna and Bhisham's staff for making this event a great success. We had 12 attendees. To our surprise, four of them were doctors and one was from England! The class was fully engaged throughout the day and it was so gratifying to be teaching such an exclusive group of people. Below you will see our class graduates on March 10, 2019.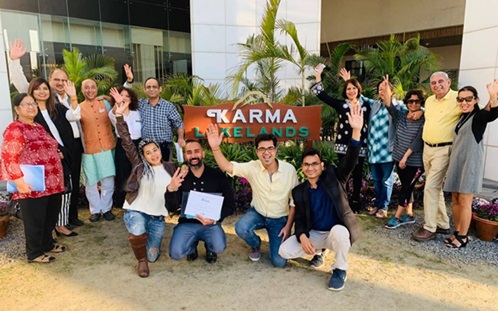 At the end of the class, we had the privilege of planting three Frangipani trees at Karma Lakelands, as requested by Homeira, as a symbol of growing BodyTalk in India!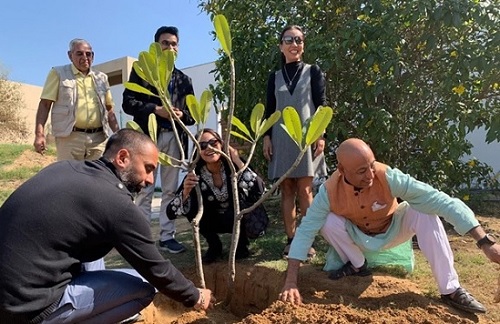 The fifth and last event of our journey was an Access Outreach event held at Adarsh Mahila Mahavidyalaya, a women's college in the city of Bhiwani. We were welcomed as celebrities here. Homeira taught BodyTalk Access to an auditorium full of students, faculty and dignitaries of this town, and the event was covered by the local newspaper! We came back with gifts of shawls and copies of the Bhagavad Gita, which are usually given to beloved teachers. It was an emotional day for all of us and I felt that I had connected with Mother India in a very different way. Below you will see our flyer for the event, followed by a photo of the hugely well attended presentation with Homeira center stage, the newspaper article covering the event, and Homeira being presented with gifts.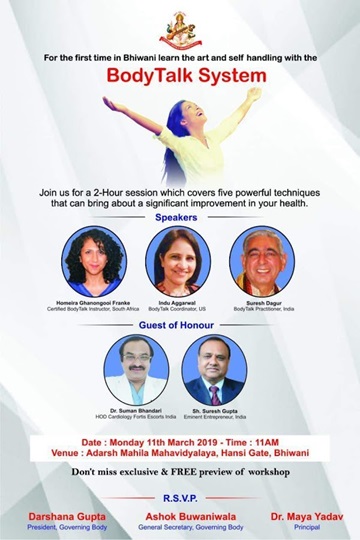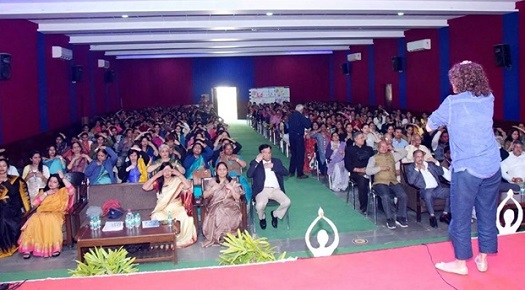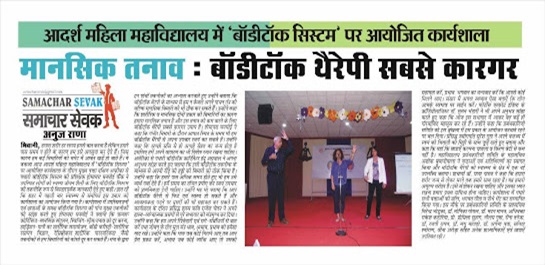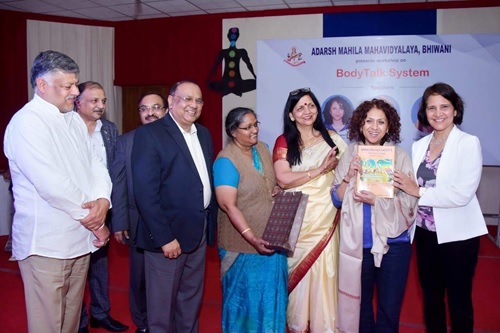 This India trip has been a special journey for me and it has further connected BodyTalk to my heart through my birth vivaxis. What a dream-reality, and none of this would have happened without Homeira's initiative and Suresh's efforts. I am forever thankful to them, to our India family and to BodyTalk staff.
In addition to these events, it was very gratifying to connect with the CEO and editors of prestigious Life Positive magazine, focused on healing modalities and in circulation for over 20 years. They are interested in publishing a BodyTalk introduction in their magazine after attending one of the public talks. I visited the local retreat center AbhiBindu for a possibility of collaboration in the future. We also met with the founder of The Quantum Institute of Wellness, a local group exploring wellness-related modalities. So, to add it all up, India is primed for integrative medicine, and doctors here are a lot more open to healing modalities in conjunction with Western medicine.
We do want to keep the BodyTalk matrix alive and growing in India. Suresh is planning to hold more BodyTalk Access classes after becoming a Trainer. He also plans to deliver public talks in Pune and Mumbai. Homeira has invited two of the doctors to her next Fundamentals class in Nairobi (September 11-14) since they have shown an interest in taking classes and becoming practitioners. I am helping Homeira and Suresh in bringing BodyTalk Fundamentals to India in March, 2020. Please send your support and blessings to keep our dream alive to keep the BodyTalk matrix flourishing in India, where such a large population of the world is ready and open to us!

Print this Article |

Facebook |

Twitter