Other Modalities and BodyTalk
Printed from http://www.bodytalksystem.com//learn/news/article.cfm?id=1116 on Jan 16, 2022.
Nov 01, 2021
By Sherry Gilbert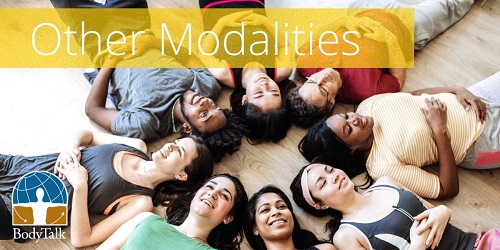 Aren't we doing BodyTalk? So then, what does "Other Modalities" mean?
You could say that "Other Modalities" is what makes BodyTalk so unique. This one tool in the practitioner's toolbox is what makes BodyTalk a truly integrative, open-ended system. It offers practitioners and clients an avenue to access the consciousness of any other system in the world or, to take it a step further, the universe. It also lets practitioners tap into and support anything the client is currently doing for their health.
The Other Modalities segment of the BodyTalk Protocol Chart receives little discussion and yet is a powerful integration tool. It is only briefly touched upon in the BodyTalk Fundamentals manual. And, in a Fundamentals class, you really only learn how it can come up as a definition or as a vague catchall category for other methods. But, truthfully, we have yet to fully explore the breadth of "Other Modalities"--both as a concept and in a practical sense. So, it is our goal to add clarity to this essential aspect of BodyTalk.
Other Modalities – PaRama BodyTalk
If "PaRama BodyTalk" is a priority and the practitioner is trained at this level, a PaRama session may begin. However, if a practitioner arrives here without being trained in PaRama, there are various possibilities to which innate wisdom may be pointing. For example, the client may need to be referred to a PaRama Practitioner. Alternatively, the practitioner may need to draw upon an aspect of PaRama consciousness. While it may not be known what that is, we can trust that the practitioner and the client's combined innate wisdom knows about this advanced level of BodyTalk and how to draw support from the collective knowledge held in the entire BodyTalk matrix.
The beauty of BodyTalk and its results arise from the power of observation. The further a practitioner deepens their knowledge, understanding, and the ability to remain neutral, the more effectively they can observe what is unfolding, and the easier it becomes for clients to make the shifts. As such, practitioners are always encouraged to continue their education in the BodyTalk System, especially when they encounter information and concepts with which they are not familiar.
Other Modalities – Other Systems
If PaRama BodyTalk is not a priority and Other Systems is, this may indicate a system in which the practitioner is trained other than BodyTalk. As with PaRama sessions, the practitioner may need to draw on an aspect of the consciousness of that system and may not be asked to implement it during the session. For example, if a BodyTalk Practitioner is also trained in Reiki, then Reiki might come up as the "Other System." The practitioner may then use their training to zero in on a specific aspect of Reiki, such as a symbol that supports mental and emotional healing. Reiki may not need to be implemented into the session unless the client's innate wisdom indicates it. Such implementation is only ethical if the practitioner is fully trained or licensed to implement it and if the client consents. This may require a separate consent form depending on the wording of the consent form used in the BodyTalk practice. Typically, if another modality comes up for implementation in a session, the client will be receptive. However, if the client booked a BodyTalk session, they must knowingly agree to any other modality being performed, and the practitioner must clarify that this other modality is beyond the scope of BodyTalk.
Because BodyTalk is an integrative system, those fully trained in external techniques or systems can offer other modality "bonuses" in their BodyTalk sessions. Clients often appreciate these "perks" but, their permission--permissions being a cornerstone of BodyTalk work--must always be given, and a consent form is an extra measure of transparency and professionalism.
Other Modalities – Other Systems the Practitioner Does Not Practice
If on the protocol chart, a practitioner arrives at "Other Modalities," followed by "Other Systems," it is possible for a system in which the practitioner has minimal or no training to be indicated. In such cases, once again, we trust--trust that the practitioner and client's combined innate wisdom can embrace the support of the consciousness of the global BodyTalk matrix and the other system highlighted. Of course, the details will remain unknown to the practitioner, as they know little or nothing about what is being accessed. In such cases, it is even more essential to remain open-minded and trust in consciousness itself as the observer of all the wonderful intricacies. It is impossible for everyone to know everything; however, the curiosity of the innate wisdom will lead the practitioner to what they need to know. It is each practitioner's responsibility to stay curious and keep learning in order to deepen understanding and become a more engaged observer.
When another modality comes up that the practitioner has no training in, this is also an excellent opportunity to refer to other professionals.
Other Modalities Integration
The BodyTalk System is easily integrated into any other healthcare system and can include any other methods of healthcare that a practitioner is trained to perform, including the IBA Life Science courses--MindScape, BreakThrough and FreeFall. The mastery of such integration is in how it is communicated ethically. It is never ethical to implement something in which a practitioner is not well trained or qualified. It is also not ethical to incorporate another system into a session without informing the client that it is not BodyTalk and receiving their consent. If there are questions about which systems BodyTalk endorses, a good rule of thumb is: If it does not appear in the IBA website course listings, it is not part of the BodyTalk System.
We hope this has provided clarity on the use of "Other Modalities" within the BodyTalk System and the ethics of educating clients on where BodyTalk begins and ends. And, as a final note, please reach out to us with your own ideas for topics within our amazing complementary healthcare system that you'd like to see explored more deeply.

Print this Article |

Facebook |

Twitter