German Instructor Meeting and Seminar Marathon
Printed from http://www.bodytalksystem.com//learn/news/article.cfm?id=369 on Jan 24, 2022.
Aug 08, 2008
The month of July was very exciting and very busy time for our German and European members. After 5 years of absence, John Veltheim returned to Hamburg in Northern Germany to teach the first BodyTalk Interactive class. As usual, the information was presented in a fresh, humourous and in-depth manner. There was quite some button pushing when the "new" concepts were presented – Innate, control, decision-making, universal consciousness, 10 / 11 dimensions, PlantTalk, etc – and everybody left very inspired and also shaken.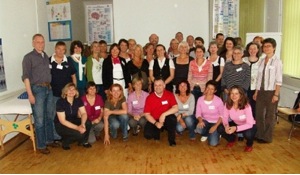 Above: BodyTalk Interactive Class
After one brief day of rest, John Veltheim was scheduled to teach the PaRama Unit 2 "live" – which was translated into German by Christine Paro Bolam, who has been translating most of John's classes and recorded by a professional videographer (Michael Springer) in order to produce the DVDs for the distance study class in German. This class was held in Wiggensbach, Southern Germany, location of the European IBA Head Office. These DVDs should be available some time in autumn to everone who has all the prerequisites to study the PU2.
It was quite an inauguration – since the first time ever the German-speaking BodyTalk community has an advantage over the English speaking BodyTalkers. John Veltheim not only taught PaRama Unit 2A but also – for the first time ever – PaRama Unit 2B. All the participants were very much filled up with energy and information. There were about four days of lecturing and one day of demo sessions, explanations / lecturing. The last day was full of surprises and some (more) new information for the advanced BodyTalkers was born.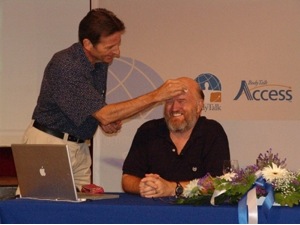 Above: John getting his make up for the filming of PU2
Last but not least, the day after PU2 live, John Veltheim also hosted the First European Instructor / Access Trainer Meeting which was attended by 17 people from all over Europe (Denmark / UK, Israel, Italy, Malta, Germany, Austria, The Netherlands).
And off John went to continue his Marathon in South Africa. We do hope that he is tapping his cortices regularly to keep his Amygdala Complex as relaxed as possible! Thank you, John!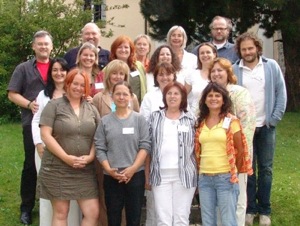 Above: European Instructor Meeting
Claudia Schembri-Heitmann, AdvSrCBI, President IBA Europe

Print this Article |

Facebook |

Twitter