First Project in South Africa: Access at a Primary School: Durban Kwazulu Natal
Printed from http://www.bodytalksystem.com//learn/news/article.cfm?id=374 on Jan 17, 2022.
Mar 04, 2009
July 2008 to September 2008
During the third term of 2008 a group of volunteers was invited to share ACCESS at a Primary School in Durban, South Africa. This school is a short-term remedial school only. The class consisted of 11 children aged between 6 and 7 years in Grade 1. All the children in the class have learning problems ranging from ADD, ADHD, dyslexia, severe hearing and speech disabilities and other physical complications. Most were on medication for ADD/ADHD and related issues such as anxiety.
The CBPs involved were Jenny Davies and Zelda Bronzin and CBI Morag Bromfield and the mum; Sue Parnell who instigated and set up the Access programme has a son in the class. (Sue is soon to do her CBP exam).
The third term is the winter term and is often synonymous with minimal growth and development. Over the 11 weeks Sue did Cortices and Switching daily on the children and once a week we did all the Access techniques. Ideally, we would have loved to do the full Access every day, but it was disruptive at the beginning of the day so we kept it to once a week.
The teacher, who has been involved with this age group at this school for many years, recorded information on each child every week under the following headings:
Literacy, Reading, Numeracy, Phonics/Spelling, Life Skills and Behaviour.
The progress was monitored using a scale which ranged from 1 = decline, 2 = no change, 3 = some improvement, 4 = much improvement and 5 = outstanding improvement.
Also included in the weekly assessment, was general input from the school psychologist, speech therapists and occupational therapists. Parents were also requested to advise on any change or improvement at home, in terms of emotional maturity, separation at school gate, interaction with siblings, organization for school, and general life and behavioral skills.
After 11 weeks, the weekly assessments were complied and Sue calculated the attached results which showed an across the board improvement in ALL areas. Some improvements were noted from week 1, others from week 4, 6 and 8 through to 11.
Many of the "normal" variables were taken into account and yet the improvements made couldn't be attributed to anything else beside the Access techniques, as much of the improvement was exponentially better.
Many of the parents were so impressed with the improvements in their child that they decided to commit to continuing this routine at home and took the Access weekend workshop.
THE ENCOURAGING RESULTS SHOWED THAT IN ALL 6 AREAS TESTED, GENERAL IMPROVEMENTS WERE NOTED IN ALL AREAS.
Please refer to the attached Class Average Access Feedback.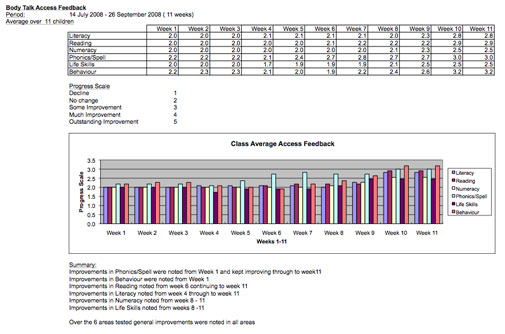 Print this Article |

Facebook |

Twitter