My Adventure to the Philippines
Printed from http://www.bodytalksystem.com//learn/news/article.cfm?id=600 on Jan 17, 2022.
Dec 10, 2010
By Wolf Sven Kasten, BAT, CBP, Germany

Now that I've been back in Germany for a while, I've had some time to digest and sort out my impressions. My second journey to the Philippines started on 23 June 2010, after I had been there once already in September 2009 to meet a friend I've got to know through the Internet.
Well, as it is, I'm a BodyTalker through and through, and regardless where I go, I'm living BodyTalk all day. That was also the case in Cebu, a town in the Visayas Islands.
I had planned to stay for 2 weeks. In the first week my body needed to get adjusted to the climate and the time change. We also found a portable massage table that I could work on and I had all the right bits and pieces for giving sessions.
On my first visit in September 2009 I had already given some sessions to family members of my friend. This summer I could start to work on outside people as well, since I had this portable table now. I started working with a slightly more affluent family and gave an information afternoon too. People reacted fantastically to the sessions, so word got out and when I'll come again next, I'll be able to teach one BodyTalk Access-Course if not more.
Two days before my return to Germany, a family took me to see their daughter who had malaria and been admitted to a hospital 3 days earlier. They asked me if I could give their child a session. I just don't have it in me to say No... even less so, if little children are involved. So the whole family trekked to the hospital with me, and there I put my eyes on that little bundle of misery. At the entry point of her infusion her hand was inflamed and it was just getting cleaned. Her screams were heartbreaking. You also could see the symptoms of the malaria on her legs: both of them were extremely swollen and covered with a tight network of red streaks. The big, round, white mosquito bites were clearly visible too. I felt if I would touch them, the legs would just explode. I had no idea what the infusion contained.
After washing my hands and collecting myself (it's really very different there than in a German hospital!) I decided to balance the girls' mother first. What I didn't notice is that during this session some medics had collected and were watching what I was doing. After the session the mother got up and said her headache was gone, and she could move her back better again. I hadn't even known about these issues.
Now the girl: Under close scrutiny of the staff I gave her a session. No idea how long it took and what links I used. But I managed to evoke a clear "Ohhh!" in the staff at the end of the session, as the legs of the little girl had improved by more than 50%. The medics were in awe - and so was I! I've only ever seen such a fast reaction in animals so far. I had known that something good would happen though - it's BodyTalk, isn't it!!? I felt that the girl would be home again in 2 days, and I said as much. That overstretched the imagination of the medics, as the girl had only been in hospital for 3 days and the minimum stay is more like 2 weeks - with antibiotics!
There was another little girl in the same room whose mother had watched everything with big eyes. So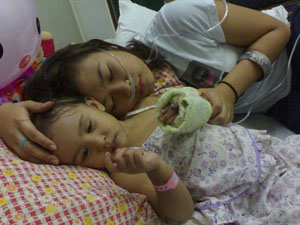 I asked her if I should balance her daughter too. Without a second thought she got everything ready for a session. So I did my first three balancing session in a hospital in Cebu and it was exciting. Then we said goodbye and the parents thanked me profusely.

On Saturday I went back to Germany. While we were busy saying goodbye, the mother of the little girlphoned to say that her daughter actually was home already, feeling well. Too much!!! Now her doctor wants to meet me and he asked when I'll be back. He'd give me a room to work in, as he has enough for me to do. He also wants to know more about BodyTalk. I'm blown away!!! Would you believe it?!! As I said, I've got to sort myself out first. I'm already working on this project with my English teacher, and I'm looking forward to my next stay on Cebu with a minimum of 2 Access classes and a "sure" job for my time on the Philippines.

I guess my idea to teach Access anywhere in the world is finally coming true!

Salamat Po, BodyTalk

Wolf Sven Kasten, BAT, CBP, Germany

Print this Article |

Facebook |

Twitter