BodyTalk Treatment Intensive with Dr John Veltheim at the Gold Coast – What a way to end the year!
Printed from http://www.bodytalksystem.com//learn/news/article.cfm?id=607 on Jan 16, 2022.
Jan 07, 2011
By Tanja Hams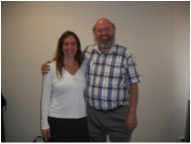 Approximately 30 Australian BodyTalkers, from newbies to advanced Parama students, spent 2 days in December observing, discussing and receiving treatments of Dr John Veltheim. Studying with John is always a very valuable experience, because from whom better could you learn than the founder of BodyTalk himself, no matter how long you have been involved with the BT System?! The observation of his treatments alone created huge shifts and a deeper understanding in all of us, receiving one as well, was just the icing on the cake.
The Treatment Intensive met way more than my expectations. It was not 'just' a treatment class, but came close to an Interactive and even Parama class. John was happy to answer all of our questions, updated us on some very exciting IBA news, explained some of his newest work, especially in the Epigenetic field and how he has been tackling genetic disorders, enlightened us with his stories and delighted us with his jokes ?, and of course blew our minds away with his ability to see everything that's going on in our bodies and the most incredible sessions.

I can't describe with words how it felt to observe so many treatments which will make a huuuge difference to people's quality of life, like being cured from Celiac disease; genetic markers for cancer being erased, and thus complete healing facilitated (life saving sessions in many cases); changes to postures which will eradicate a lot of pain; one was told that her surprise baby at over 40 actually saved her from having cancer; he detected micro parasites and programmed them to die off etc, etc... and as a side effect, all sessions of course also leading to a new level of consciousness and paradigm shifts.
I have come away feeling VERY excited about where BodyTalk is heading and the possibilities we have by applying this awesome system. Not, that I wasn't excited about BodyTalk before the class, as I'm living and breathing BodyTalk, but it has certainly reignited my passion and dedication to it on a new level.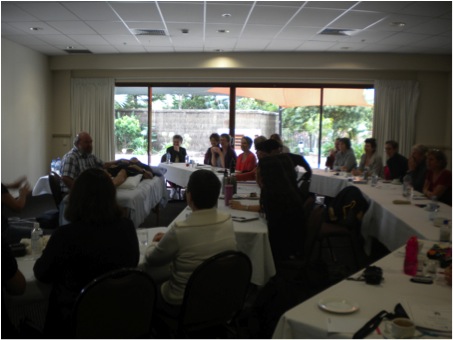 What a gift the class has been to all of us. Thank you so much, John, for making yourself available to treat so many of us, by offering this class! Thanks also to the IBA and all other amazing teachers for the smorgasbord of classes we can choose from, assisting us to become more complete BodyTalk Practitioners. I will now go and process the weekend and look forward to BreakThrough 2 and 'Finding Health' in April. May the presence of BodyTalk as THE ONE AND ONLY modality to achieve true health explode in 2011 ?. Happy New Year to everyone, from the beautiful land Down Under, where the people are so hard to understand, that even ex Aussies have difficulties ;-)...

Print this Article |

Facebook |

Twitter