Mini Instructor Get Together From Around the World..
Printed from http://www.bodytalksystem.com//learn/news/article.cfm?id=635 on Jan 24, 2022.
Mar 18, 2011
By Amanda Rollefstad BSc., RMT, Senior CBI, SrCBI, CBI, BAT, CBP, Parama BP, AdvCBP (Cagary, Alberta)
This February many of the IBA Instructors around the world pulled together on the same couple of days and took part in a mini instructor get-together! Below is a bit of feedback from each of the meetings. If you have a chance to get together with the other instructors in your area, please do, it was a great way to connect and do some work on 'our' stuff!
From Calgary, Canada....
Our get-together began with some socializing and catching-up on each others lives, it was nice to hear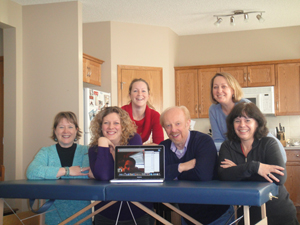 about how everything was going for each of us on a personal level. We had a couple Instructors from the Calgary area attend including myself (Amanda), Andrea Carter (and her new addition Peighton), Sylvia Muiznieks, and Richard Stuart. Then we were lucky enough to have Joanne Matheson, join us all the way from New Zealand (she was here in Calgary training with Sylvia) AND we also joined up with Lasha Watson from Shoal Lake and Kelley Burry from Nova Scotia via Skype. Yeah for technology!
Once we all got settled we then jumped into some conversation about the 'business' topics on our list including the manuals, protocol/procedures, and clarification with a couple of the policies. Then we talked about some of our challenges (personal and professional), which surfaced some great stuff for us to work on!
We had a nice long lunch together while we continued our socializing. After lunch we did two Group BodyTalk Sessions followed by a BreakThrough. The group sessions were quite neat (one lead by Richard, the only male in the group, and the other lead by Lasha) with all of us feeling some interesting shifts. Before and after the sessions Richard evaluated our ROM and flexibility, which confirmed (on a physical level) some of the 'shifts' we had felt during the session. The BreakThrough was of course, awesome in that it lead to some great 'ah-ha's' AND anchored the shifts in the sessions we just had!The gathering ended with some discussion and sharing of teaching tools/strategies, it was great to hear about how each of us teach/approach some of the topics in BodyTalk to give us a different perspective.
I look forward to connecting in the future!
Amanda Rollefstad
From Vancouver, Canada....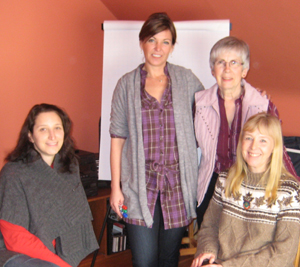 Winter took some off on the 9th February and so did the five of us who attended the instructor's gathering in Vancouver. Well, it wasn't really time off rather working in a different way. We started the morning with a group matrix. During the rest of the morning under charges of winter sunlight that coursed into the room Kristy Kenny led exercises on Breakthrough, FreeFall and Mindscape. The Breakthrough exercise got us to the bottom of our thought patterns. For the FreeFall exercise we paired up and unclothed our beliefs on perfection. In the afternoon, the four us, Kristy having left for an appointment, talked. We talked about our experiences teaching Access and our practices in a manner than honoured our morning together. During the rest of our afternoon we traded sessions. The gathering ended on time and rather too soon.
Michele Pulse
From Ontario, Canada.....
Talked about how to get the power of the word of BodyTalk, and what is behind it – out into the world of Ontario. Recognized that they newly formed OBA would strengthen the matrix and give opportunity to network as a group.
In relation to Access, maybe people are too skeptical –thinking it is too simple to be able to do what it says it can do. Suggestions were that we need to do more public talks; doing them together, rather than singly, and being able to do demonstrations so that the participants become aware of how simple but effective it is.
Talked about marketing ideas including presentations to groups (seems to be successful), advertising in newspapers and other publication (can be hit or miss – especially if people don't know what it is, and wonder why they would choose to experience it). Suggested that we contact other BodyTalk Practitioners who are near or in the cities that have few or no other practicing BodyTalkers or Access grads and suggest doing a presentation together.
We also traded BodyTalk sessions, and had a nice lunch together. We Instructors will make more effort to come together during the year to share and support each other and brainstorm.
Tracey Clark-Worrall
From Wiggensbach, Germany....
Our gathering began in the morning of the 2nd February. We had agreed to meet for Brunch in my clinic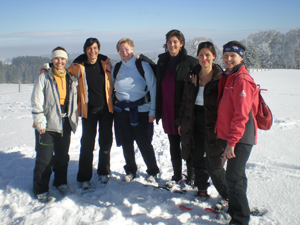 and everyone would contribute something.
We – that were: Jutta Leininger / BAT, Lydia Ernst / BAT, Gabriele Zidek / BAT, Tatjana Kramer / CBI, Irmgard Hertzer / BAT, Claudia Schembri-Heitmann / CBI, Felix Schembri / MSI.
By the time we were all gathered around the table it was 10am. We started with a memoriam of Jennifer Stelly and also the connection to / with everyone else who would be meeting (either some hours ahead or behind us) on exactly these days. After our delicious breakfast, we went out to enjoy the snow and sunshine. After packing the car with snow shoes, sledges and people, we drove to a nearby place to go snowshoe walking, we enjoyed every second of it and had lots of fun throwing snow balls, creating BodyTalk in the snow with our snowshoes and just being in our "nothing box". After 2.5 hours we were back at the car, full of fresh ions and energy and red cheeks. Off we went, back "home" for coffee and cake to spark us back on.
Then we started "working". First we did a group matrix session. "instructor group meeting" was the name of the matrix. After that the discussion was sparked about teaching, working with coordinators, colleagues, the joys and challenges of working in the teaching field, the link to the IBA etc. and then we started our individual sessions, always within the group energy. Then we got hungry and tired. So after cooking together a delicious meal, we sat down to play games, however everyone was too tired, relaxed or just floating. So the singing began, accompanied by one guitar. At 11pm we switched off the lights and all went to sleep in our sleeping bags with mattresses on the floor. The last morning again began with a breakfast, lots of laughter and talking and in the end we continued with our sessions. Always asking the priority who would be the next patient and also the next practitioner/s.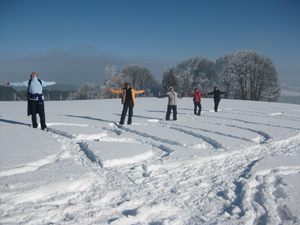 The energetic shifts were felt all the time and for all of us it felt like a deep and profound bonding. Thank you everyone for making this possible!
Namasté, Claudia Schembri-Heitmann.
From Altmünster/Upper Austria...
We, the Austrian group, started off as a rather small group of 4 (Eva Ohnheiser/CBI, Gertrude Pöltner/BAT, Karin Fechter/BAT, Wolfgang Lienbacher/BAT Trainee). We met at my house in the late morning and when finally everyone had arrived we had lunch together. We immediately started with what we mainly did those 2 days – talk and talk and talk about BodyTalk, Access, PaRama, clients, seminars, plans, personal experiences, stories, just anything and everything around BodyTalk. After lunch went to a coffee house in Gmunden where we were enjoying coffee and delicious cakes when Margarete Fischereder/CBI joined up with us. Back home again we had a look at the new Access PP Presentation and exchanged ideas about that. Some of us sat in front of the open fire late into the night, also because Margarete had started telling us a very personal BodyTalk story which touched everybody's heart. The next morning Michaela Ellen Kain/BAT and Sonja Reichenwallner/BAT joined our group and of course they brought up new topics for discussion and thus made sure that the discussion didn't run dry. In the late afternoon everyone went home with a heart full of BodyTalk, a bagful of ideas and a feeling of connectedness to and within a great matrix.
Thank you for a wonderful idea.
Lots of Love
Karin Fechter
There were a few other Instructors around the world that are planning to get together to do the same thing so if you feel inspired to connect with some of the Instructors n your are then, go for it!
Looking forward to seeing most of you at conference!
Amanda Rollefstad
View the newsletter |

Print this Article |

Facebook |

Twitter