Philippines Report: Access Review through Outreach Clinics
Printed from http://www.bodytalksystem.com//learn/news/article.cfm?id=729 on Jan 17, 2022.
Mar 30, 2012
By Dorothy Friesen
We held the first Access classes in Davao City, on the island of Mindanao in 2010, and then the technicians, mostly from local non-governmental organizations, were on their own for two years. So, in February, 2012, to enliven their use of Access, Mindanao co-ordinator Chic Ramoso and I tried something new - Access Review through Outreach.

In the morning, we reviewed the Access techniques, then in the afternoon held a clinic in conjunction with a Drop-in/Support Center for Street Children. The group of young women reported that their shoulders released, stuffy noses cleared, and they used words like "lighter, happier" to describe what they felt after the Access session. Of course, the Access technicians felt a huge burst of confidence to get such immediate feedback. Several of the technicians work at the Center and will continue the group Access sessions there. The same strategy, Review through Outreach, will be conducted in outlying rural communities and other social welfare centers around Davao this year.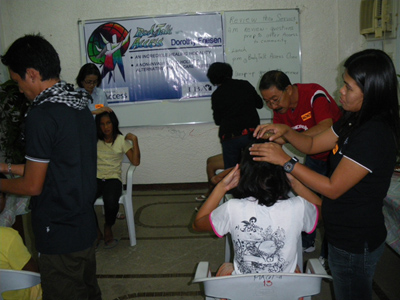 Photo: Philippine Access Review through Outreach clinic in Davao City, February, 2012.

As part of this program, Philippine BodyTalk promoter Marilen Abesamis, Chic Ramoso and I also visited the evacuation sites for survivors of the December 2011 typhoon and destructive flash floods in Cagayan de Oro, Mindanao. Hundreds of houses and people were washed out to sea. Thousands of people have lost loved ones and are without homes, many are also without means of livelihood.

By February, people were living in temporary tent villages and receiving daily food, but were deep in grief and re-playing the trauma in their bodies and minds. We began by giving a BodyTalk introduction and Access demonstration to the relief and support workers, and then went directly to some of the sites to offer Access to the survivors.

I have seen the power of Access over the years, but the response of these survivors was truly remarkable. Their posture shifted, there were smiles, there was laughter. Every single one of them mentioned changes they noticed - pain lifting, headaches gone, hearts lighter, feeling fresher. One woman had climbed onto her roof with her husband and baby and then seen her parents home next door collapse and her family inside carried away. After her Access session, she said, (translation from Visayan language) "This is more precious than the rice and material goods, this helps with the inner need."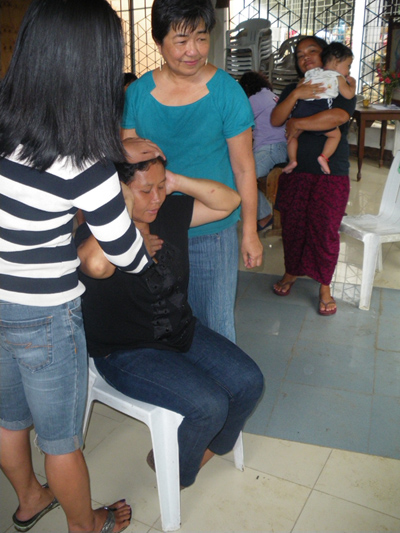 Photo: Marilen Abesamis supervises a typhoon survivor to apply Fast Aid to a fellow survivor. Our standard fast aid in the evacuation tent sites was cortices to heart.

Meanwhile, north of Manila, BodyTalk practitioner, Alan Along continues to supervise the Access clinics for people suffering from the effects of toxic wastes left by the US military bases. In conjunction with recent Access graduate, Rose Bayan of Kanlungan Center for overseas Filipino workers, he held an Access outreach in a new province, Pangasinan, attended by former OFWs and parents. Alan writes, "The workers said they hope that this is not the first and last visit of BodyTalk in their area, and I replied, prepare for the next Bodytalk Access training."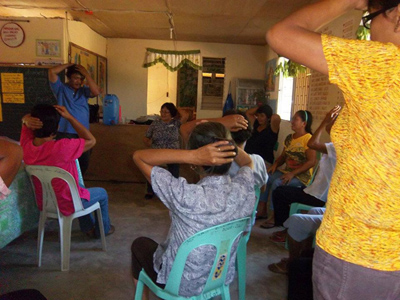 Photo: Alan Along demonstrates cortices to returned overseas Filipino workers and their parents in San Manuel, Pangasinan, north of Manila.

The International BodyTalk Foundation has helped with donation of Access manuals for classes in 2009, 2010 and 2012. Heartfelt thanks also this year to Be Healthy Foundation for their financial support in the emergency outreach and in setting up and running the clinics both in southern Philippines and in the areas north of Manila.

Print this Article |

Facebook |

Twitter