Meet & Greet across BT Networks At the Krallerhof (Austria) 13th April – 15th April 2012
Printed from http://www.bodytalksystem.com//learn/news/article.cfm?id=740 on Jan 27, 2022.
Jun 22, 2012
By Jutta Leininger, HP, BAT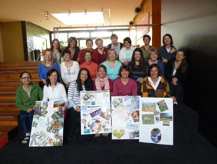 It is Friday afternoon. Marion, Ramona, Bernhard (my husband and in this case also our driver) and myself are on our way to the first "Meet & Greet across BodyTalk Networks" at the Krallerhof (Leogang, Austria).
While we are chatting away (much to my husband's regret – but he knew beforehand what he would get himself into) the journey passes in a thrill of anticipation, curiosity and excitement for the things to come. At the check-in at the hotel, we already run into some BodyTalk friends who meet us with a heart-warming and joyful welcome.
There is hardly time left for unpacking and marveling at our spacious, luxurious and harmoniously designed suite before we have to leave for our meet-and-greet dinner. Other participants have already had their "hellos" and FreeFall-style getting to know each other: in the hotel spa, namely in the whirlpool or the saunas (so you are the husband of ...? - undisguised by clothes ...).
We are among the last to show up in the dining room. This is the first occasion to say hello to all the other participants. Altogether there are 23 BodyTalkers, 8 accompanying persons and 5 kids / teenagers. There is an open and relaxed atmosphere, which makes it easy for me to get into a conversation with those BodyTalkers I don't know yet – there is abundant time to do this during our 5-course meal.
It is 7 o' clock Saturday morning (very, very early). After a hot night (no, not what you might be thinking of – we simply couldn't turn the heater down) I drag myself out of bed so that I won't miss Innate Movement (developed by Tatjana Kramer).
I (a confirmed late riser and morning grouch) wistfully leave my husband, who is still sound asleep, and set off through the long and very confusing underground corridors of the hotel in the direction of the seminar room. Nearly all the BodyTalkers show up at this day's warm-up. And there is even one male participant!
Innate Movement is a dance of consciousness. While dancing barefoot to the music we try to intuit our masculine and feminine aspects, stillness, chaos and order - with the knowledge and the wisdom that we find all this within ourselves.
After an incredibly rich and enjoyable breakfast the BodyTalkers come together for the core meeting of the weekend. Claudia gets us in the mood with a short meditation and all those who have BioGeometry skills help to align everyone to their own center. Interestingly the picture of the seated participants' positions shows a spiral.
With that awareness in mind, and under the direction of Tatjana, we divide into four groups. Our task is to design a collage depicting those qualities of our networks, which we want to develop further, but also the issues that need improvement.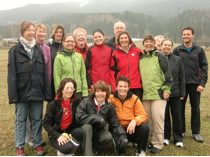 Each group consists of members of the three networks that initiated the meet & greet event (BodyTalk Network Tyrol, Allgäu and South-Eastern Bavaria) plus 2 other Austrian BodyTalkers. The exchange with other BodyTalkers is very interesting and great fun.
I realize that the important issues are the same for all the networks. It is about meeting like-minded people, exchange and support, a nurturing and joyful atmosphere and public talks to promote BodyTalk.
Issues where we feel have shortcomings need a longer discussion: keywords like structure, goal orientation, assertiveness and aggressiveness are mentioned – but it is our task to agree on just one! And suddenly it occurs to us: it's all about masculine energy and "wisdom arising from conflict and diversity". Each of the collages is then presented to the rest of the group and it turns out that the results are alike.
To complete the group-work each group does a BodyTalk matrix session on the issues we have just been discussing and finalized on paper.
The sessions are going really deep and everyone can feel the shift. Finally the three individual sessions are integrated into the whole group and the three networks via Claudia and Tatjana who serve as "anchors". The energy vortex, a tangible and visible energy for some of the group, has an enormous power of transformation. The clearly noticeable and growing heart energy could lead to the assumption that the meeting should rather be called "meet-greet-hug".
Refreshed by a break and the delicious catering we listen to Lenka who gives a diverting talk on the effects and usage of medicinal herbs for women. What is more, everyone gets a homemade "heart tea" as a "heart cure" to take home - thus "meet-greet-hug and cure your heart".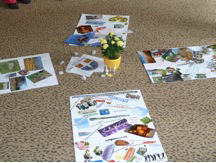 At the end of the meeting Irmgard spontaneously agrees to go "Heigln" with us for half an hour. As Heigln is always done in the open air we get appropriately dressed to being able to move so that we can get our stiff limbs going again and fill our lungs with fresh air.

The animals in the corral next to us are captivated and watch our exercises almost motionless.

For the remaining afternoon I enjoy the pool and the saunas (at least 7 different ones) in the spa of the hotel, like so many other BodyTalkers. Time goes by fast and soon it is dinnertime. This time a seven-course meal spoils our palate. What a long and eventful day!

Sunday morning, 7 o' clock

Again, the alarm clock is ringing. Motivated by yesterday's Heigln-session and hoping that after our feudal meals of the weekend I won't put on 3 additional kilos, I head off to go Heigln with Irmgard who is joined by nearly all the other BodyTalkers (this time even 2 men!). Moving in the fresh air does me a lot of good.

Due to the early-morning exercise I enjoy breakfast with a thoroughly good conscience. At the mealtimes we never sit with the same people twice but all the time mix with different people.

You can already feel the atmosphere of departure and eventually we start saying farewell. Some leave straight after breakfast, others make once more use of the spa facilities. We too have to pack our bags and drive home again – a bit tired, quiet (much to the delight of my husband) and happy.

It was a wonderful, touching and moving weekend. I'd like to say a big thank you to Tatjana Kramer who had the idea, chose the hotel and looked after us for the whole weekend. I also want to say thank you to Marion Bauer and Lydia Ernst who assisted Tatjana with the organization. And "Thank you" Claudia Schembri-Heitmann, Lenka Waurig and Irmgard Hertzer for organizing activities.

Many thanks to everyone who took part - it was great to come to know you or to see you again. I look forward to our next "Meet and Greet across BT Networks"!

Jutta Leininger, HP, BAT

Print this Article |

Facebook |

Twitter