Meet Karen
Printed from http://www.bodytalksystem.com//learn/news/article.cfm?id=1030 on Jan 27, 2022.
Jul 19, 2017
By Karen Atkins
We got the chance to catch up with Karen a little before she sets off on her Frequency Experiment Tour, which kicks off this coming Saturday, July 22 in her home town of Mill Valley, California.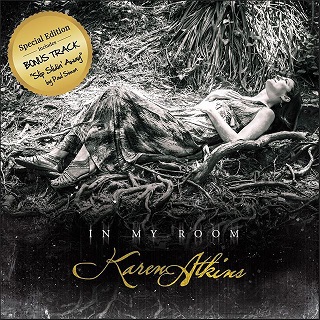 1. If you could be doing anything in the world at this moment, what would it be?
What I'm doing right now! I have never compromised my passions and I believe that that's what has kept me happy and satisfied my whole life. If I want to be doing something, I'll find a way to do it. Right now, I'm combining music with wellness tools to help people integrate health into their life, which is exactly what I want to be doing!
2. If you had to change your name, what would you change it to and why?
I would change it to Julia because I always felt more like a Julia than a Karen. In fact, for a few months while I was in landscape design school, I actually changed it to Julia! Eventually I had to make a choice to go with one name because half the people I knew were calling me Karen and the other half Julia--when I told the people who had been calling me Julia that my name was actually Karen, they had a hard time with it! One woman actually got really upset telling me, "Karen is not your name, it's Julia! I won't call you Karen."
3. What is the best piece of advice you were ever given?
This isn't necessarily the best piece of advice I was ever given, but whenever I hear the word "advice" I hear my father say, "Don't get too high and don't get too low." My father is a successful corporate lawyer and he's been able to go through many ups and downs with this sort of calm attitude. I don't ever get too low but I do get highly excited sometimes... So I guess I've only really listened to half his advice!
4. Do you have a favorite personal saying or mantra?
"Speak less, listen more." To really listen to people and not always try to insert my opinion right off the bat. Especially in terms of BodyTalk, and also with music, that has been a tremendous gift to me, to constantly keep coming back to listening instead of assuming. When I ask questions of Innate, if I really allow myself to listen, the answers are much more aligned and correct, and the results are better. It's the same with music; being able to listen not just to other instruments, other voices, but also my inner voice. This has given me a sensitivity that has not only helped me understand others better, but has also helped me to hear the things that the deepest part of myself really wanted to express, because I was able to listen.
5. Why BodyTalk, Access or the Life Sciences?
There are so many reasons, but I believe one of the key things is that these can all be done anywhere, with anyone, without requiring us to have any sort of external tools or physical resources, besides ourselves. Especially as the world shifts and becomes more complex, we need more ways that we can simply and effectively support ourselves and our communities.

Print this Article |

Facebook |

Twitter