Supplemental Course: Stress Disorders
Show all Upcoming Supplemental Course: Stress Disorders Courses Scheduled | Back to List of All Courses
---
How we respond to stress is very important. A variety of factors can contribute to the body no longer responding appropriately to stress. When this happens, even minor amounts of stress will cause problems. In this course, we will look at how we can reprogram injured stress response systems. We will look at how such systems become damaged in the first place, the brain and body parts involved, the symptoms, as well as the difference between stress in the brain, the heart and the gut. This subject is particularly important for children whose stress response system has been damaged.

We will also explore post-traumatic stress disorder (PTSD). While this condition is common and often extreme among military veterans, PTSD can affect anyone who has been through a period of trauma, which includes most humans. Trauma can include difficult relationships, serious illness in self or family, any kind of brush with death or feeling powerless, even simply seeing something frightening or terribly confusing. We will look at what's happening in PTSD physiologically, and the brain and body parts involved. We will also look at the some of the psychology and how BodyTalk can help.

Finally, we will examine the importance of stress in body functions. All physiological responses in the body are catalyzed through a "stress" trigger. For example, hunger pangs are a stress signal that tell us we need to eat. This mechanism occurs in grand fashion at the cellular level. We will ask the question, "What would happen if the body was never stressed?" And we will also explore how stress fuels a healthy fight-flight function, as well as shaping who we are and how we respond to life.
This course counts for 2 hours of continuing education for Certified BodyTalk Practitioners' requirements.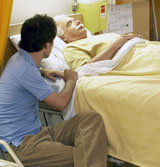 The BodyTalk System provides low-cost preventive care, reduces hospital stays and lowers the cost of drug use by stimulating the body to heal faster.
Spotlight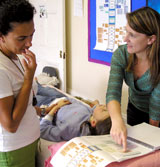 The IBA's Instructors are passionate about their work and dedicated to teaching this simple, but comprehensive system.