Authentic Connection Group Sessions - Series of 3
Show all Upcoming Authentic Connection Group Sessions - Series of 3 Courses Scheduled | Back to List of All Courses
---
Connection is the key to human survival and with all of the disconnect in our lives currently (technology, pandemics, disjointed families, work places, etc.) it is imperative to cultivate connection from within. The special group session series focuses on Authentic Connection, starting within ourselves, and to our Self, before radiating outward. Our perception and ability to connect is first fostered through our five senses. Therefore, the first session in this series will focus on connecting with our five senses. Once we are anchored in this way, we can then move into connecting internally and finding that sense of "home" within ourselves. When our internal connection with our Self is strong, we can then begin to radiate that sense of connection outward. As we begin to interact with the outer world while grounded in our inner sense of connection, there is a ripple effect that extends a feeling of affinity and kinship far beyond ourselves. And when there is connection in this way, separation, divisiveness and enmity naturally dissolve.
Group Session series offer an opportunity for anyone to partake in a remote pre-recorded BodyTalk session with top Instructors in the BodyTalk System. Instructors tune into the collective energy of all those who will listen, providing a session that can offer powerful benefits to anyone who may view the session in the future. Countless testimonials have demonstrated that viewing these sessions at any time and tapping them out can be just as effective as receiving sessions in real time in person. In fact, group sessions are often more powerful because they are amplified by the shared observations and experiences of a large group. Additionally, remote group sessions will increase your understanding of important BodyTalk concepts that you can bring into your sessions with clients and provide an opportunity for shifts in your own health, consciousness, and perception.
This course counts for 3 hours of continuing education for Certified BodyTalk Practitioners' requirements.
This course counts for 3 hours of continuing education for Certified BodyTalk Practitioners' requirements.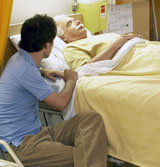 The BodyTalk System provides low-cost preventive care, reduces hospital stays and lowers the cost of drug use by stimulating the body to heal faster.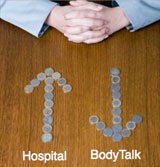 The BodyTalk System can reduce healthcare costs by stimulating the body's ability to heal itself.