Alena Candova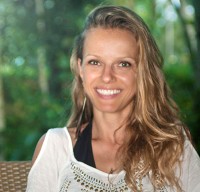 Biography
Doctor of Chiropractic
Certified Body Talk Practitioner
Yoga therapist
My mission is to reconnect people to their innate healing wisdom, and help them bring alignment to the body, mind and spirit.
I have always been passionate about holistic health. My journey started with Yoga therapy and Reiky, which helped me understand the huge importance of addressing the whole system and all the layers in the body to achieve optimal health.
As a Chiropractor I mostly work with energy techniques, applied kinesiology and emotional release, as I was able to witness how aligning the body's energies and the emotional body automatically aligns the physical body.
Body talk has been a huge addition to my work. I found it to be the most complete system I have ever worked with. It is in complete alignment with the ancient wisdom of yoga and ancient healing arts that recognize there are 5 layers within the body, and that addressing the more subtle layers, realigns the denser layers. These layers are: Physical body (the most dense layer), Energy body, Emotional body, Wisdom body, and Bliss body. At the level of Bliss body we are in perfect alignment and no therapy is needed. So the most optimal treatment would be at the level of the Wisdom body, and this is what Body talk does. All the denser layers and therefore the physical body will automatically come into alignment and therefore better health.
With Body talk we are also able to access the subconscious mind, it's limiting belief systems and patterns, as well as emotional blockages that so often trigger chronic illness and keep us in a vicious circle of self-destructive behaviours and constant survival mode.
My aim is to help people move past these tensions and blockages so they can start living from more relaxed state. This is very important for optimal health as the Parasympathetic nervous state is the only state in which the body can regenerate and heal.
By aligning the subtle layers of the body and optimizing the parasympathetic nervous function, many chronic health conditions such as hormonal problems, infertility, migraines, fibromyalgia, thyroid issues, rheumatoid arthritis, anxiety and depression, digestive issues, allergies, autoimmune disorders, heart issues, sleep problems, etc. can resolve.