Chie Ozaki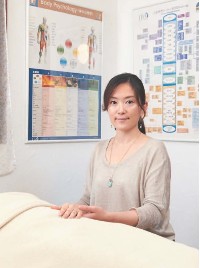 Chie Ozaki
BAT, CBP, AdvCBP
Clinic
Health Hut
2-19-19 Naritanishi Suginami-ku
Tokyo,
Japan
Biography
Chie Ozaki is CBP and BAT in Japan. She studied English at Sophia junior college in Japan. She started her career at Philips electronics Japan for 11years as a sales rep, sales promotion and marketing.
She was awarded as the "most improving sales in Asia Pacific" at her first year. Next year, she also received the "Philips president's award" two years in a row as a team. Being a project leader of "packaging transfer project" in Japan, she was working with other country such as Korea Hong Kong team and as a result, she and her team has won a quality improvement competition.
She had another opportunity to work at Motorola for 5 years. Introduced the High-end motherboard or embedded computing system to Japanese defense, medical and telecom market as a sales account manager.
Working hard as a business woman, she felt something was missing and was concerned with her own future. Since then she has started to learn Yoga, Ayurveda, reiki, reading, which she thought would help her nourish her life.
Having a fulfilled life both working and learning, she had two big life events that changed her life. She lost both of her parents in 2010 and experienced a massive earthquake 3.11 in 2011. Having experienced both has made her want to work directly to help others since life is too short.
In 2011, she met bodytalk through her friend who is CBP and PT. After the earthquake she had a first BodyTalk session and felt remarkable change in sleep quality. Since then her passion for BodyTalk has made her join the bodytalk access in April 2011 and fundamentals in May 2011. After taking the fundamental course, she decided to leave the company and start her new career as a bodytalker and yoga instructor.
To start her career as a practitioner, she pursued studying advanced courses in BodyTalk and also brushed up her Yoga teaching skill in teacher training course at Sivananda Yoga Ashram in Kerala, India.
In 2012, she opened her session room "Health Hut" to support clients through BodyTalk and Yoga to improve their quality of life so that they can be their "true self".