Jennifer Barrett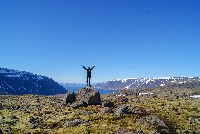 Biography
I love all things science and metaphysical and where these two concepts meet, magic happens!
My work as a Geologist (P.Geo) allows me to fuel my love of exploring the physical world. My work as a Body Talk Practitioner allows me to expand into a world well beyond the physical!
From my early twenties, I suffered from chronic pain from a back injury whose origin was inexplainable by Western Medicine. I began to question and search for an explanation that was beyond the physical body.
A car accident in 2019 forced me again, to level up and investigate a different way of treating pain- Enter Body Talk! During a Body Talk Fundamentals course, my appreciation for the mind body connection came full circle. Here was a system that encompassed my scientific background as well as my innate desire to look at the world from a different lens.
Body Talk put me back in the driver's seat when it came to my health! I went from living in a world where things "happened TO me" to a world where these experiences were opportunities FOR me. These physical symptoms were untold stories, emotions held on for too long and judgements incepted in the mind that no longer served me.
Since integrating BodyTalk into my everyday life, I noticed that my environment started to shift. It has been so exciting to see the huge changes in my work and relationships. With this, comes a lot more joy and peace.
In less than a year, I became a certified Body Talk practitioner with the International Body Talk Association (IBA) and have completed the following courses. The next step in my journey is to obtain an Advanced certification and to teach Body Talk Access.
- Mod 1&2 Body Talk Fundamentals
- Advanced Body Talk Protocols and Procedures
- Mod 3 Principles of Consciousness
- Mod 6: Macrocosmic Mind
- Body Talk Access
My passion for exploration has established a practice that will constantly be evolving. Let me help you explore the beautiful intricacies of your Bodymind!
You can find me at
Website: www.intrepidbodymind.com
Instagram @ intrepid.bodymind