Theresa Spencer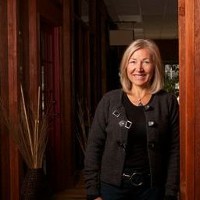 Theresa Spencer
CYT, CBP
Clinic
672 Windward Way

Qualicum Beach, BC
Canada
Biography
All my life I've had a strong interest in natural health and healing. After hearing about BodyTalk in early 2006, I wanted to jump in with both feet but went ahead slowly by first taking the Access course which required just one day of commitment. By day's end I knew I would continue and promptly registered for BodyTalk: Fundamentals.


After becoming certified on February 2, 2007 I opened my practice - TerraSol BodyTalk. I have continued my path of learning by studying many of the valuable courses offered through the International BodyTalk Association

The Advanced Modules:
Principles of Consciousness,
Bio-Dynamics,
Macrocosmic BodyMind,
Matrix Dynamics,
Advanced Modules Integration,
Traditional Chinese Medicine for BodyTalkers,
Structural Integration,
BodyTalk for Animals
BodyTalk Treatment Intensive
Eastern Medicine
IBA Conference 2013 - Branching Out
Biophysical mind
PaRama I studies
San Baio - The Three Treasures
Module 6 Online online Mentor Group with Dr. Laura Stuve
Body Ecology
Life Science Modules:
Mindscape
Advanced Mindscape
Breakthrough I
Finding Health: Mapping the Healing Process
Other Modalities
Matrix Energetics
Reflexology
Prenatal Yoga
Shamanic Practices
I love the BodyTalk System because it is such a gentle form of communicating with the whole body, mind and spirit. It allows the body to take the lead and tell us what balance is required to start the healing process without having to guess what might work best. Each person's life experiences and bodily frequencies are unique to them and BodyTalk recognizes this; no two sessions will be the same.

In November 2009 I completed the 200 hour yoga teacher training recognized by Yoga Alliance and have been loving every minute. As yoga also has a strong parallel to the balancing of the bodymind the teachings overlap with those of BodyTalk and I find my life changing more and more as the two studies combine. With a developing affinity to these two life styles it feels natural for BodyTalk to flow into my yoga class design. I'm finding ithat it creates a stronger body/mind connection. I am excited to see where it can take my students.

We really have no idea how marvelous we are and of how interconnected we are with every other living thing. Through BodyTalk we can begin to find out how to feel more connected not just within ourselves but also to all that surrounds us. Let the healing begin.....
To book an appointment or have any quesanswered please call me at 403-393-0283. I look forward to hearing from you.

Thank You.
Namaste