Tanja Phoenix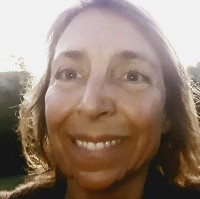 Biography
Tanja Phoenix was born and raised in Germany. Her working life has spanned traditional and non-traditional sectors. Her studies have included tourism and event management, teaching yoga, Nia, Strategic Intervention coaching and a range of holistic therapies culminating in the BodyTalk System.
The depth and breadth of her skills base and life experiences give Tanja a unique perspective as a Certified BodyTalk Practitioner. She has remained curious, intrigued and fascinated and developed a deep understanding of the BodyTalk paradigm of knowledge.

Tanja first encountered BodyTalk in 2005 and this experience left a profound and lasting impression. She felt a discernible new meaning to her life and she felt renewed energy throughout her body.

She has found a rich source of fulfilment for her curiosity and the multiple aspects within the discipline ensure her ongoing and fascinated engagement.

Tanja's generosity of spirit compels her to pass on what she learns. Her studies in BodyTalk have included her native language German and English.

She is living BodyTalk personally through her own programs. Her own path to well-being and freedom has been a journey of over 30 years. Tanja works in service to her clients holding a safe space where, without any preconceived agenda, they are helped to achieve their full potential. Her goals for clients are that they are able to tune into their life force energy, drop their masks and revel in a deeply fulfilling relationship with themselves and others.

Her passion in life is a profound and personal connection to nature. She devotes time each day in the forest attuned to the elements. Relationships, communication and connection between people is another important driver in Tanja's outreach work. Her engagement with holistic therapies has allowed her to develop a deep force of creativity in her work with clients.

She takes particular joy in weaving ideas and concepts with an open mind. Her 'unlimited sky' vision allows new experiences to be forged for her clients.

Testimonials:

….didn't tell me this was going to be this powerful!!!! However, doing plenty of breathwork and meditation. Feel this process has taught me real surrender. Really really helping me go deep with meditation and wanting/needing it for grounding. Feel like a different person…. C, Palm Beach Australia
A session with you is a truly unique experience. You have these endless tricks in your bag and always know which one to use at the right time. Your ability to hold great space with love and wisdom makes any healing with you such a powerful and magical experience. I am so grateful I have crossed paths with you and for the beautiful changes you have helped facilitate in my life. Thank you Tanja. Kevin, QLD
So much healing has happened..and stillness I feel now with my eyes open... Janek, QLD
....good to remember and be conscious of....I feel like I'm really working things out by simply being...conscious and aware and present. Befriending the ego...I've been aware of this dance in the past couple of days. Grateful for the experience and I have learned some things about myself/relationships/intuition. All of it. I feel so much aware from the session. One thing you have taught me is to listen...rest...do nothing...refill....it's as if everything I do is a ritual...falling in love with myself, my connections and every little thing I do...even making my bed...I'm feeling so good. It's all become a lot clearer, I feel so connected, like I can feel everything much more deeply and with more awareness. Thank you again for holding space and your offering. Alix. Burleigh Heads
I feel completely humbled and grateful for today. From the bottom of my heart, all the thank yous. A big thing I realized is that fear is such an illusion that grips society by the throat. I feel way more connected in a much different way and just don't seem to care as much. I'm really loving not having attachments to things. I kinda feel like a baby dear learning to walk yet powerful and centred at the same time. Enjoying everything as it unfolds with no expectations. I've also noticed I have zero desire for alcohol or anything else. Brent, QLD
Flowing well. Have become acutely aware of my programs of behaviours and thinking. Programs to let go of and change for more productive and abundant ones. Being confronted with myself. Very uncomfortable at my job. Will change that asap. Looking for time freedom to be and do what I want to be and do. Waking up before my alarm and feel awake. Clarity in self and new awareness. Feel more connected to nature and animals than I already was. C. QLD
I feel so clear, calm. I'm feeling the call strongly I need to go back home to South Africa soon very soon. Things at work aren't bothering me that normally would. Such big changes within since I saw you. Calm..Quiet…detached and also saying Yes to doing! Rebecca QLD
Thank you so much Tanja, I will sit with all you've said, my pain body & move it…I will try do what you've encouraged me to do. You are so wise, empathetic, compassionate & beautiful. I appreciate you and your time, care and love. The universe has delivered what I must have needed in this moment. My last client cancelled, and I've been able to go by the water, move through the 5 stages on the grass, shake out my pain body when it arises and breath…connect. Thank you again, sooo much for your beautiful heart. " Karin, QLD 4
Dear Tanja, had an epic and insightful deeply connected meditation this morning, even though I have experienced this before, the awe and the love and power are almost too much to take. Also my wife has decided to leave her job, and feels totally empowered by the decision. In deep gratitude to you." Max, QLD
I'm letting go so deeply now. I feel it. I saw people I haven't seen in a very long time on the weekend at a friend's birthday…many people mentioned how alive and glowing I am. Was nice to hear. Close friends have said that I'm back to me. So happy. It does make sense the letting go. It is my mantra. I observe myself go to pull away or pull back and I say ' let go' and I do surrender and it is incredible. My boyfriend says it to me as well…he is so present.
I feel like I am so aware of my own patterns. I feel like I can see and feel my own. And I see patterns of others. I can see my boyfriend's vulnerability and I feel a deeper shift in me this past week…in acceptance and surrender with loving. Embracing and giving love to all that I encounter and I feel people looking at me and smiling just as I smile to them. What a shift, connection is bliss." A, QLD
My session was the perfect introduction to Bodytalk and something that works very well into my life's practice.
You are so generous with your time and so refreshingly present....my session had so many amazing components...not only did it show me the power of Bodytalk, but with your combined life coaching it also gave me many things to take away and think about or implement in my daily life. I left feeling excited, but calm and grounded when I left.
I love your space, the energy there is profound and it works as a reminder for living passion, love, yoga & breathing, self-care etc.
What a great way to start a new, fresh year! I look forward to another session soon!
Lindsay B. Australia
A wonderful big thank you ... Absolutely adored my session today, you are such and inspirational practitioner , your wisdom and touch just illuminated my whole being and beyond. I am so grateful to have connected with you. Look forward to many more afternoons spent together healing and learning from the heart. With Deep appreciation and connection of Bodytalk , Michelle M R
Thank you Tanja,
Today was absolutely lovely. I thoroughly enjoyed my session. You are such a passionate practitioner.
Problems with anxiety and letting go of a relationship and learning to trust and love myself.
I felt immediately at ease in your beautiful environment. After my session I first noticed that I was completely calm and relaxed. When I looked into the mirror I saw a glow, I said to myself..."I look refreshed so bright eyed" as I was waiting for my daughter to finish her session I was very relaxed and did a short meditation. I do have an excitement that if I can see and feel these instant results, how will I feel as the healing begins within my body. I am grateful and excited. Jamie B.
Tanja has trained extensively in Germany and Australia within the BodyTalk System (over 100 BodyTalk Seminars) and has immersed herself in several other modalities and life enhancing week long training immersions:
BodyTalk: Access
BodyTalk: Fundamentals
BodyTalk: Principles of Consciousness
BodyTalk: Bio–Dynamics
BodyTalk: Lymphatic Drainage and Applied A&P
BodyTalk: Macrocosmic BodyMind
BodyTalk: BodyEcology
BodyTalk: Matrix Dynamics
BodyTalk Interactive, Treatment Intensive
Finding Health 1: Mapping the Healing Process
Finding Health 2: Applied Consciousness
Fascial Balancing for BodyTalkers
Orthopedic Evaluation
Structural Integration
BreakThrough
FreeFall
Mindscape
Parama College Unit 1 and 2
Chinese Medicine
Eastern Medicine
The Biophysical Mind
Energetics
Finding Health Consolidated
The Metaphysics of Treating
The Soul's Journey and the 3 Brains and study group
Various Supplemental Courses with John Veltheim:
Stress Disorders
The Immune System
Practical Body Psychology Shoulders and Hips
Organ Relationships
BodyTalk Direct
Nia Blue Belt and 5-Stages Instructor – Tanja incorporates Nia and Yoga into her BodyTalk sessions, increasing healing through FEELING, somatic therapy, movement and body awareness. (http://www.nianow.com/tanjah)
Two levels of Spiritual Sexual Shamanic Training with the International School of Temple Arts.
Pelvic Heart Integration with Dr. Deborah Taj Anapol
Strategic Intervention and Relationship Coaching with the Tony Robbins/Madanes Institute.
Shamanic Womb Journeys