Andy Spencer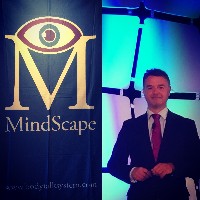 Biography
SENIOR MINDSCAPE INSTRUCTOR
ADVANCED CERTIFIED BODYTALK PRACTITIONER
PARAMA BODYTALK PRACTITIONER
Your Life – Live It
Andy is a Senior MindScape Instructor and Advanced Practitioner. He teaches Advanced MindScape (Another Dimension), and MindScape and is described as an inspiring, professional, empathic practitioner and instructor. As a Senior MSI he is keen to train fellow MindScape Instructors around the world, to help spread this life changing seminar.
Modules completed:

PaRama BodyTalk 2,
PaRama 2 BodyTalk 2 Practical
PaRama BodyTalk 1,
PaRama BodyTalk 1 Practical,
Advanced Modules Integration
BodyTalk Fundamentals (Mods 1&2)
BodyTalk Fundamentals Integration
BodyTalk Principles of Consciousness (Mod 3)
BodyTalk Bio-Dynamics (Mod 4/7)
BodyTalk Lymphatic Drainage and Applied Anatomy and Physiology (Mod 5)
BodyTalk Macrocosmic BodyMind (Mod 6)
BodyTalk Matrix Dynamics (Mod 9)
Anatomy & Physiology for BodyTalkers Modules 1,2,3
Traditional Chinese Medicine for BodyTalkers
Finding Health: Mapping the Healing Process
Structural Integration
Breakthrough
Mindscape
Advanced Mindscape
Advanced MindScape: Expanding the Possibilities
BodyTalk Access
John Veltheim : Interactive
John Veltheim Treatment Intensive
Body Ecology
Eastern Medicine
Andy is a Senior MindScape Instructor, an Advanced Certified BodyTalk Practitioner and Level 2 PaRama BodyTalk Practitioner. He is a Director of BodyTalk Training Limited with his Partner Karen Best, an Advanced Certified BodyTalk Instructor.
He is fortunate to have studied with the founder and two of the most senior instructors within the IBA. He is a qualified Chartered Accountant and has a degree in Economics, with over 20 years Corporate Finance experience in the City of London. He has been on the Board of many private companies and worked with many management teams to enable them to significantly grow their businesses.
He has 4 children himself and loves to work with clients of all ages helping them to reach their full potential, whether in health, family, sports or business. He has worked with many families, and couples and children of all ages. His youngest being a few weeks since conception, to his oldest clients in their sprightly 90's.
Andy has many fellow instructors and practitioners as clients as well as business people and entrepreneurs, helping to develop their awareness and become more successful. A common side effect is increased joy in their life!
BACKGROUND


I came across BodyTalk 8 years ago. I witnessed dramatic improvements in my own and my family's health for a mix of symptoms including asthma and hypothyroidism. Before I discovered BodyTalk I felt my own health was in a downward spiral. I had tried various traditional and holistic therapies and was spending a fortune on supplements and treatments. All of which helped stabilise my health if I used them but didn't seem to ever get to the root cause of the problem. BodyTalk was the first healthcare system or modality that seemed to be treating the underlying issues and causes and not just the symptoms. After witnessing dramatic improvements in my health I also started to notice how I was changing as a person. BodyTalk appeared to improve my life at all levels. Intrigued, I just had to know more. I was so amazed with this revolutionary healthcare system which just 'made sense' at a deep level that I became a Certified BodyTalk Practitioner in 2008, and an Advanced Certified BodyTalk Practitioner in 2010.
Since then I have continued my study and application of the BodyTalk System and continue to be blown away by the results. I have enjoyed studying not just in the UK, but also Germany, Canada and the USA. The huge shift in the way I think and live my life is just phenomenal. I love to work with people of all ages to help them reach their potential.
As a MindScape Instructor Andy teaches a powerful course which can enhance your mind's potential and increase your creative abilities. Participants and clients describe Andy as an inspiring instructor and practitioner, with a passionate, honest and professional approach.
Your Life – Live It
CLINICS
Due to Andy's busy international teaching schedule, all sessions are now carried out remotely, either live on Skype, FaceTime, or an mp3 recording will be sent summarising the session. He encourages all his clients to attend the MindSCape and Access seminars so they are empowered to also help themselves and support the shifts from sessions.
Distance Sessions:
As a Senior MindScape Instructor and Advanced BodyTalk Practitioner Andy provides distance sessions using Advanced MindScape techniques and has clients all around the world.