Kathy Halvorson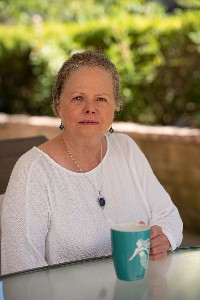 Biography
This practice is temporality closed.
Kathy Halvorson's interest in health, healing and personal development led her to BodyTalk, so she can help herself and others improve in consciousness.
Kathy's clients appreciate that she helps them go deep into themselves. They praise her kindness and caring and her ability to be present to them. At the same time she remains unpretentious and grounded.
Although BodyTalk works to remove blockages on energetic levels, Kathy's strong background in real estate, finance and education provides a down-to-earth, pragmatic approach that infuses her energy work.
Kathy models an approach to health where personal healthcare is ongoing and preventative, and maintains optimal balance of mind, body and spirit. She is continually educating herself so that she can help more people who are making a difference in the world. This fits right in with BodyTalk's encouragement to their practitioners to keep up to date with their ever-evolving techniques. She is currently studying epigenetics, which has helped reduce symptoms and, in some cases, eliminate dis-ease.
Volunteering is important to Kathy. Once a month she offers BodyTalk sessions for veterans at the Mindful Warrior Project's Wellness Days in the Los Angeles area. Watching them walk out the door smiling and more peaceful fills her heart with joy. She has volunteered for Words of Peace Global which promotes the message that peace is possible and encourages people to know themselves on the deepest level of being a human being.
Kathy is certified as an advanced BodyTalk practitioner by the International BodyTalk Association. She is certified as a massage therapist by the California Massage Therapy Council and as a Parama practitioner. Her education includes a BA from Florida International University and postgraduate studies in spiritual psychology.
Call Kathy (805) 279 5100 today to make an appointment so you can experience this gentle, safe, non-invasive technique and put your body on the path to optimal functioning.