Rosie Smith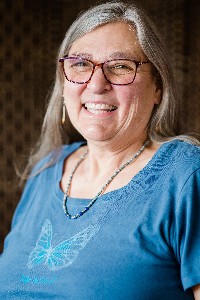 Rosie Smith
LMT, CBP
Clinic
700 South Avenue, Suite C

Missoula, MT 59801
USA
Phone: 406-240-9103
lunarosie@yahoo.com

Biography
Rosie comes to BodyTalk with a background in therapeutic massage. She began doing massage at the age of six, much to her father's delight, as he was her main subject! Finally, in 1991, Rosie received formal training and received her National Certification. She shares BodyTalk and massage with clients at her private practice, Moondance Healing Therapies in Missoula, Montana.
In 2006, Rosie had her first exposure to BodyTalk, when a client who had been dealing with lymes disease and thyroid issues came to see her after an absence of almost a year. The client was radiant and looking well. When Rosie inquired what she had been doing, "BodyTalk" was the enthusiastic response. Three weeks later, Rosie took her first BodyTalk training, certifying and adding it to her practice in 2009.

She was particularly taken by the BodyTalk system due to its focus on the priority needs of the body. The idea that the body is designed to heal itself was also a major draw to this technique. Rosie tends to focus on what is going right in the body and in the life of her clients, building on that reality and supporting the body to release unneeded stressors in order to heal and rejuvenate.
Rosie's experiences with BodyTalk's results include helping children with Autism, supporting the release of past emotional memories and traumas, balancing allergy and other body chemistry issues, and structural comfort issues, all using the BodyTalk protocol as it was designed, to support these shifts according to the direction of the body's own healing wisdom.
In 2019, Rosie took her first BodyIntuitive class, expanding her resources, perspective and understanding for working with the techniques of BodyTalk, combining the latest advances in Western science with the wisdom of traditional Chinese Medicine.