Judy Archer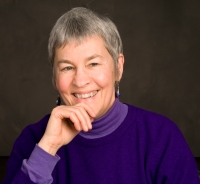 Biography
Judy Archer, Certified BodyTalk Practitioner, a Certified Inner Relationship Focusing Trainer and a TRE Provider. She holds a Master of Applied Science in Human Relations and Counselling from the University of Waterloo, Ontario.

Her background including leading personal awareness workshops, working as a Trager Practitioner(movement re-education), and doing Therapeutic Touch gives her a multifaceted foundation for her BodyTalk System work.

She has completed BodyTalk Fundamentals, BodyTalk:Principles of Consciousness MindScape, BodyTalk:Bio-Dynamics, BodyTalk: Macrocosmic BodyMind, BodyTalk: Matrix Dynamics. BodyTalk Interactive, Advanced Modules Integration, BreakThrough I & II, BreakThrough Practical, Freefall, Family Systems Evaluation, Finding Health:Mapping the the Healing Process, Structural Integration for BodyTalkers, Animal Talk Access and BodyTalk Access.
She is also a Certified TRE Provider teaching classes in Toronto and available to travel in Canada and the US.
TRE Tension and Trauma Release Exercises (see <www.treforall.com>) are simple and effective ways of releasing stored tension and trauma through neurogenic tremors. They are a great complement to BodyTalk and Focusing.
She is also a visual artist, working in assemblages and painting.


Her interests include regular swimming, researching and writing on family history. Her healing journey has included bioenergetic therapy, dream work, and journalling.

Judy is drawn to BodyTalk for its gentle, non-invasive approach to balancing and synchronizing the body, mind and spirit. Her clients have gained relief from anxiety, arthritis, back pain, fibromyalgia, hyperactivity, irritable bowel syndrome, migraines, scoliosis, shakiness. and stress. They also report experiencing a deeper calmness, faster recovery from colds and flu, broader awareness, more relaxation and self reflective moments, more authenticity and enhanced creativity.

Judy can be reached at (705)325- 2055 to set up a remote or in person session at her home clinic, a demonstration or presentation.