Eloise Ansell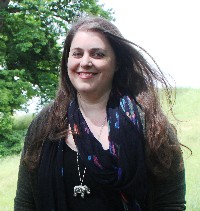 Eloise Ansell
NLP Practitioner/Instructor, MSc, BAT, MSI, CBP, Parama BP, AdvCBP
Clinic
Violet Hill Studios
Maida Vale/St Johns Wood
London , NW8 9EB
UK
Phone: 07766 820285
info@eloiseansell.com
www.flourishment.co.uk
Biography
Eloise Ansell
Advanced Certified BodyTalk Practitioner (AdvCBP)
PaRama CBP
BodyTalk Access Trainer
MindScape Instructor
I discovered BodyTalk in 2006 whilst training for the London Marathon. After acquiring an injury to my foot in a half marathon 2 months prior to the big day, I was worried I would be out of action for weeks!

Weeks later, still unable to put weight on my foot I visited some medical professionals… but no solution and it kept getting worse. After a month of rest one of my coaching friends suggested she 'tap' it for me. Unusually sceptical to the offer I experienced my first BodyTalk session... 36 hours later the pain was completely gone! Shocked at the results and speed of recovery I continued to receive sessions.
Over the next 2 years I saw improvements in my hearing:
- Lost my fear of boats and water
- Improved my circulation – no longer wearing 20 layers all year-round!
- Resolved the constant pain due to arthritis
- Feeling emotionally 'together again'
- Feeling more energetic and happy
... and the list continues to grow!

Soon after discovering BodyTalk I was encouraged to train in the system myself by a number of instructors and BodyTalkers and qualified as a practitioner in early 2008. In 2010 I qualified as a trainer of BodyTalk Access and in 2011 as the first UK MindScape instructor.

My background is varied having worked in many different industries; including corporate & scientific research. I have worked for many years in Change Management and worked as an NLP Practitioner & Life Coach for 8 years. I studied Mathematics and Computing at University.

I often works with couples with infertility problems, women with emotional pain and professionals who want to remove stress in their hectic lives.

Clinic Days & Times
I am currently taking new clients on.
Two - Mondays of the month in London 10am – 8pm:
Violet Hill Studios, 6 Violet Hill, London, NW8 9EB - nearest tubes Maida Vale/St John's Wood
One - Tuesday a month in Reading 10am – 8pm:
Rosedale Clinic, 48 Redlands Road, Reading, RG1 5HR

One - Wednesday of the month in Hove 10am – 7pm:
Grey Door Therapy Clinic, First Floor, 36 Blatchington Rd, Hove BN3 5BG
Thursdays:
Distance Clinic – Eloise has clients around the World (more info on my website)

Eloise has taken the following IBA courses:
BodyTalk: Fundamentals (Mod 1&2)
BodyTalk: Principles of Consciousness (Mod 3)
BodyTalk: Bio–Dynamics (Mod 4(7))
BodyTalk: Lymphatic Drainage and Applied A&P (Mod 5)
BodyTalk: Macrocosmic BodyMind (Mod 6)
BodyTalk: Matrix Dynamics (Mod 9)
BodyTalk: Advanced Integration
Chinese Medicine for BodyTalkers
Structural Integration for BodyTalkers
BodyTalk Fascial Energetics Level I
Finding Health - Mapping the Healing Process
Finding Health 2 - Applied Consciousness
Eastern Medicine
BodyEcology
Founders Treatment Intensive
MindScape & Advanced MindScape
BreakThrough 1 & BreakThrough Practical
BreakThrough 2
FreeFall 1
PaRama 1 & Practical class, completed PaRama 2
IBA Members Conference: 2009, 2010, 2013
As well as teaching I coordinate and organize many BodyTalk courses around the South of England.
I am also a key part of the UK team, looking after the UK website.
I also have taken classes in BioGeometry & organise classes in the UK for many courses.

For further information, please visit my websites
www.flourishment.co.uk
Testimonials:
"I'd had a pain in my lower left rib for 7 plus years, which randomly moved from irritating to extremely painful. I had seen two doctors about the problem with no resolution. After my first distance session with Eloise, the pain has completely gone. It's such an incredible relief, both physically and mentally." RK Oct 2009

"I sensed at the time that it was happening [distance/remote session] but didn't know for sure so when I saw the email and read the time it had been done I knew that already shifts were occurring.
As I began to listen I felt a great sense of relaxation wash over me, the detail Eloise picked up on was extremely relevant and I love the fact that I can listen to the session again and embrace the content over and over!
Awesome. Thank you and looking forward to next time." Nancy Hughes CBP '2015
"I must admit I was quite skeptical initially - I've always been of the opinion that it is only my GP that can help with any type of health problem and anything else is just a waste of time and money. I was having a very specific issue though which was causing me real problems and which was having a knock on effect in the rest of my life leaving me stressed, depressed and frustrated. My GP was having no luck with finding the root cause, so as a last resort I asked Eloise for help.
The results have been amazing, and although I still can't work out WHY it works, I'm over the moon with the end result. I've gone from having frequent anxiety and panic attacks and being unable to sleep properly, to feeling completely in control of my life. I don't think I've ever felt better or happier.
Eloise is a fantastic person who excels at helping people with all sorts of problems. She is friendly, helpful and completely non-judgmental. I don't know what I would have done without her J" JS, July '09

Teaching Testimonials:
"It was wonderful being part of Eloise's MindScape course. She expertly shares her knowledge and passion for the subject, giving you confidence to use the tools, trust your intuition and be open to the endless possibilities that MindScape can offer you. I would highly recommend everyone to be part of the MindScape experience with Eloise" Caroline, Surrey

"Thanks so much Eloise, I woke this morning feeling really good as if my body had been reassembled perfectly overnight, which is nice! Thanks also for the Body Talk session as I was the lucky name out of the hat! I'm looking forward to trying out all the techniques daily and hope my mum does too. I'm sure we'll benefit hugely from it all. Thanks again" Jackie (Access student)