Loesje Jacob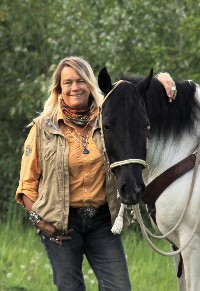 Biography
Loesje (pronounced "Loosha") is passionate about humans & animals! As a mother of two, animal gaurdian and animal professional, Loesje has always strived to provide the best for those under her care, and for clients who trust her to train and provide assistance for themselves and their their animal companions.
In 2001, Loesje discovered the BodyTalk System & knew it was the answer to her desire to provide a more effective level of care. Since then she has focused 100% of her practice facilitating Internationally about the Animal-Human Connection and uses Linking Awareness Journey (non-verbal communication) and BodyTalk concepts to help alleviate trauma, pain, behavioural and health challenges in animals and humans.
"For many years, I was having a blast doing what I LOVED (groomer/trainer/educator), but little did I know that all these awesome animals were PATIENTLY teaching me. Animals often 'ask me' to help, 'telling me' they hurt, emotionally, mentally, spiritually and/or physically, often as a direct result of emotional, mental, spiritual, physical issues experienced by their companions (either animal or human)."
The full extent of what I've learned to date would be too long to list, but the animals 'Greatest Gift to Me', is the ability to perceive their thoughts, and feelings, also to experience with them what it is like to 'BE' in 'Sacred Heart Space'.
"I acquired the tools to assist them when I studied the BodyTalk System. I knew immediately that BodyTalk would meet the animals' needs and complement their veterinary care, as well as integrate with other modalities. My personal journey with animals and Consciousness Based Energy Medicine over the years has been Amazing, and I have been very honored to help improve my own life, my animals lives, as well as the lives and well being of both animals and their human companions. "
Loesje operates under the business name;
Linking Awareness Adventures Inc.
Reflecting her philosophy of:
Linking the Connection between Humans,
Animals, the Environment and life.
Loesje's range of experience includes: Teaching Internationally, Speaking Internationally, practicing as an Advanced Certified BodyTalk, PaRama 2 Practitioner for Humans and Animals (domestic and wild), worldwide.
She has also co-created an Animal Communication class with her daughter Emily. Linking Awareness ~ Intercellular Communication ~ A Healing Journey
Loesje has over 30 year's direct experience, as an animal Professional, is a Certified Groomer (dog and cats), Dog Trainer and Adv. Animal Communicator and she is continuously studying many forms of Natural Horsemanship. Her range of experience includes, animal education, dealing with animal illness, behavioural issues and animals' transition through death.
Loesje continues to work with and mentor a number of Veterinarians world wide as a consultant and provides valuable experience in assisting clients to embrace the
Value of Integrating Veterinary
and
Consciousness Based Energy Medicine
An aspect of Loesje's practice time is also dedicated to Children and Adults, Loesje loves facilitating creative ways to involve animals:
If a child is nervous about having a session, I'll ask them to bring their animal friend along to help them. Children are immediately relaxed and I'll have them assist me by working on their animal.
It is FUN, EMPOWERING & HUMBLING to OBSERVE.
Adults also benefit from bringing their animal companions with them. Dogs and cats love to lie on the table with their human companions and help with the balancing session. Watching this process unfold as the animals help their companions is 'Awe Inspiring'!
Loesje's dream continues to expand as she shares the connection between Animals and Humans through her teaching as a Sr. Certified BodyTalk or Animals Instructor and Sr. BodyTalk Instructor as well as Sr. Facilitator and Founder of Linking Awareness Adventures Inc.
Her latest DREAM PROJECT is in Bogor, Java, Indonesia at IPB University, Veterinary Faculty, where, supported by donors world wide, Linking Awareness Adventures Inc. and the International BodyTalk Foundation, she sponsors Veterinarians, Veterinary Students, Animal Activists, Zoo and Sanctuary staff, as well as locals to learn Linking Awareness Journey concepts and BodyTalk Fundamentals for Animals along with International participants whose participation helps to co-fund her projects.
Loesje lives in the North Okanagan Valley, B.C. Canada (famous for it's sunny weather, lakes, fruit, wineries and ranchland, and winter sports), the beautiful Vacation Destination for people from all over the World. Loesje holds clinics at her property "Eagle's Eye Ranch" in the Okanagan Valley, and many more exciting and exotic locations worldwide.
"I Am Profoundly Humbled by
The Power of
The 'Innate Wisdom' Within us All!"
"My audience will summon from me what they want,
I will find the words to help them hear it."
"I Am the Catalyst to help them open to:
The receiving of what they've all along been asking for."
SUMMARY:
Sr. BodyTalk for Animals Instructor, Sr. BodyTalk Instructor, BodyTalk Fundamentals for Animals and Humans Instructor, BodyTalk Access for Animals and Humans Trainer, BodyTalk Fundamentals Instructor, BodyTalk Fundamentals Integrative for Animals Instructor, BodyTalk Fundamentals Integrative Instructor, Adv. Cert. BodyTalk Practitioner, PaRama Levels 1-2 Practitioner, Re-Connection Practitioner, Matrix Energetics (level 1-Whizards), Reiki, Sirian Blue Star, Adv. Animal Communicator. Founder/Facilitator of Linking Awareness ~ Intercellular Communication ~A Healing Journey, Linking Awareness Practical, Linking Awareness Family Journey, Linking Awareness Adventure.