Shawn Hanekom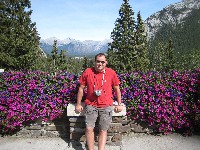 Shawn Hanekom
Dip. Herbology & Nutrition; F.H.O.N.E.R.I, CBP, Parama BP
Clinic
Bryanston,

Gauteng, Gauteng 2191
South Africa
Phone: +27798845616
btfp@icloud.com
nautiluswellness.org
Biography
Nautilus Integrative Wellness Systems

Shawn is a certified Pa Rama Body Talk Practitioner, and also a member of the International Body Talk Association.

After many years, Shawn has decided to follow his passion for healthcare on a full time basis. Shawn has studied in the fields of Nutrition (supplementation) for the last 25 years, with a keen interest in Homeopathy and Herbology.

Although spending most of his formative years in the corporate environment Shawn has studied in a variety of disciplines, namely:

Industrial Psychology, Psychology, Developmental Psychology,

Pedagogics,

Montessori Philosophy as well as his MBA.

Shawn has his diploma in Herbology & Optimum Nutrition. Shawn also has received accreditation at a Masters Degree level in Natural Medicine as well as Integrative Medicine. Shawn also works at a Consciousness Medicine level.


Shawn owned a Montessori school for 8 years

Shawn is a keen sportsman and competed on a national and international level in athletics.

Shawn holds a black belt in Karate and currently also practices the art of Krav Maga and spent some time practicing full contact kick boxing.
After experiencing the benefits of Body Talk with a sports injury, Shawn knew that BT and the field of energy medicine, was just where he wanted to be.
After having completed the Pa Rama 2 program, Shawn now works in the field of Consciousness medicine and quantum energy.

Shawn is a full time Body Talk Practitioner. Although Shawn sees clients both young and old, he has a passion to help people achieve their full potential (it's never too late).

Shawn has a keen interest in the field of sports rehab as well as enhancing sports performance through the Body Talk system.
Shawn has personally started and run six of his own businesses. Due to Shawn's extensive experience in working for some of the most high profile corporate companies in South Africa, as well as his business studies, Shawn also functions as a business consultant where he applies the Body Talk system as one of his tools to his consultations.
Body Talk truly is an amazing integrative health care modality that transcends all barriers. Until you have actually experienced a body talk session and the harmony that it brings to the body-mind complex it is very difficult to make an informed decision about Body Talk as a system. As a client you should be open to at least four body talk treatments to receive the full benefit of what body talk has on offer. More sticky patterns might need more treatment sessions.

Training:

Shawn has already completed the following Body Talk Training modules: 1,2,3,4,6,7,8A,9,

Traditional Chinese Medicine,

Body Chemistry Specifics, and

Advanced Mind Scape.

Pa Rama 1 theory and practical
Pa Rama 2 theory and practical

Animal Talk
Sacred Geometry
Intercellular communication ( non- verbal communication)

Shawn is a student of the Pa Rama Life Sciences College in the USA.
Shawn has a keen interest in Akashic Soul recording reading and offers this as a modality too.
Shawns other speciality is Medical Intuition.
Shawn is currently a student of the Quantum University in the USA, where he is busy with his Doctorate and PhD in Natural Medicine as well as Doctorate & PhD IN Integrative Medicine.

He also has had the opportunity not only to be exposed to local and international trainers, but has also studied abroad. To ensure that Shawn stays abreast of the latest in the field of alternative health, He is an avid reader, does research, attends courses frequently, and is continually studying.

Shawn is a research associate with The Herbology & Optimal Nutrition Education & Research Institute.

Shawn is a Fellow of The Herbology & Optimal Nutrition Education & Research Institute.

Shawn has also manufactured and formulated his own range of herbal formulas that work on the subtle energies of the human body, and are available for purchase from Shawn.

Shawn is a member of the International Body Talk Association in the USA.

For appointments please contact the practice on:
Cell: 079 884 5616.



Shawn also runs consciousness based training programs helping people to understand energy systems of the human body and how they can enhance their full potential through a better understanding of these systems.